A SUNDANCE NOW PRE-THEATRICAL RELEASE: 8/5/11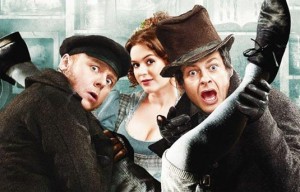 It's 1828 and Edinburgh is the capital of scientific discovery.  With the best and brightest minds racing to unlock the secrets of human anatomy, autopsies are all the rage and the freshly deceased are in high demand.  So when William Hare and William Burke find themselves in a bit of a fiscal crisis, they decide to take good ol' fashioned grave robbery one step further: murder.  Simon Pegg (Shaun of the Dead, Hot Fuzz), Andy Serkis (The Lord of the Rings) and Isla Fisher (Confessions of a Shopaholic) star in this fresh comical spin on the true Burke and Hare murders.
Cadavers are the key to science, success, and love in this black comedy from legendary director John Landis!
Check out a sneak peek of the film now: Exclusive Clip 1 & Exclusive Clip 2
Watch it August 5th on Sundance NOW before it hits theaters!