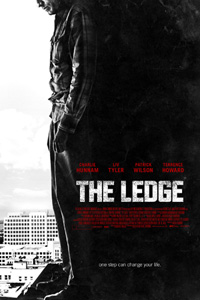 As we've been talking about here on the blog, today is a very special day in the evolution and growth of SundanceNOW.
Right now, registered SundaceNOW users can access a sneak preview of the erotic thriller The Ledge starring Liv Tyler, Patrick Wilson, Charlie Hunnam and Terrence Howard before it's available anywhere else. After embarking on a passionate affair with his evangelical neighbor's wife (Tyler), Gavin (Sons of Anarchy's Hunnam) soon finds himself in a battle of wills that will have life or death consequences. As a nonbeliever, Gavin is lured by his lover's husband (Insidious' Wilson) to the ledge of a high rise and told he has one hour to make a choice between his life or the one he loves. Without faith in an afterlife, will he be able to make a decision? It's up to police officer Hollis (Howard) to save both their lives, but the clock is ticking in this edge-of-your-seat film that will leave you gasping until the final frame.
The Ledge is our very first digital premiere. The exclusive window lasts for two weeks before the film makes its way to more traditional VOD platforms. A theatrical release is planned for July. Get it while you can.
And don't take our word for it:
"The cast is excellent. Charlie Hunnam, Terrence Howard, and Liv Tyler turn in fine performances."
-Michael Dunaway, Paste Magazine
"A unique hybrid: part thriller, part philosophical treatise, part forbidden love story."
Eric Ditzian, MTV Movies Blog