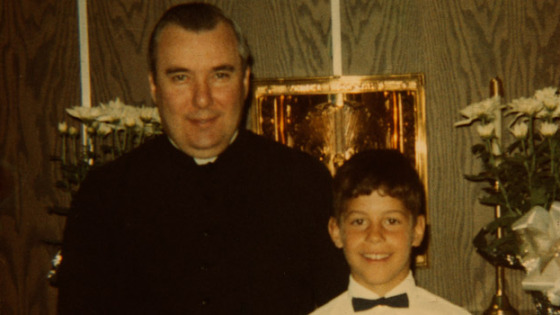 Young people make for easy targets: they're vulnerable, impressionable and naive. They also, not coincidentally, make for compelling nonfiction subjects. Stories of violence, corruption and abuse are all the more tragic when the fragility of youth is exploited. At the ongoing DOC NYC film festival, a number of the program's best films revolve around such tales of innocence lost, and the broader implications their victimization has for our society.
Alex Gibney's powerful and affecting Mea Maxima Culpa: Silence in the House of God, which also opens in theaters on Friday, is the most high-profile of these films and goes after the biggest and most controversial perpetrator: the Catholic Church. While the Catholic clergy's infamous track record of sexual molestation is widely known, Gibney zeros in on an acutely disturbing and resonant series of incidents that took place in the 1970s, when several deaf boys were sexually abused by their priest. To highlight the Vatican's appalling culture of silence, Gibney finds a group of young men who were literally incapable of speaking out about the crimes against them. (Yet, as it turned out, the case against Milwaukee priest Lawrence Murphy became the first public protest against clerical sex abuse in the United States.)
Perhaps Gibney's most effective stylistic choice is to employ straightforward interviews with the victims, now well into middle age, who use sign language to tell their stories. Every movement, slap and turn of their hands seems to pop on the soundtrack, reinforcing their feelings of disgust, anger and frustration, as actors (Jamey Sheridan, Chris Coope, Ethan Hawke and John Slattery) speak their words in voice-over.
While Gibney interviews several credible experts, including former Benedictine monks who testify to the disturbing prevalence of abuse cases and the ways in which they were continually whitewashed, it's the hand-signed interviews with men recalling their youthful feelings of confusion, frustration and powerlessness, that stand out, adding both intimacy and outrage to Gibney's more wide-ranging attack on the heinous crimes and cover-ups that have taken place in the Catholic Church.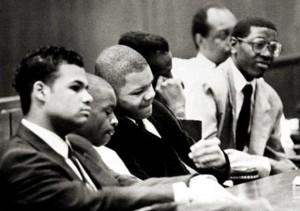 Just as riveting and infuriating, Ken and Sarah Burns's The Central Park Five—which also screens this week—exposes the injustice that befell a group of innocent boys at the hands of a larger social institution: in this case, a racially biased 1980s New York political and legal system. Through first-personal testimony and archival footage of interrogations, the documentary unveils the shocking first-person account of the boys, none older than 16 at the time, who were intimidated, manipulated and coerced by police and prosecutors.
Similarly, in Pulitzer Prize-winning photographer David Turnley's DOC NYC world premiere Shenandoah, there is no single monster responsible for the death of a young Latino man in a conservative Pennsylvania region. Rather, it is a general small-town American ethos, with its love of football, hunting and white pride, which would appear to be the culprit.
Reminiscent of Christine Choy and Renee Tajima-Pena's landmark 1987 doc Who Killed Vincent Chin?, with a little Friday Night Lights thrown in, the documentary chronicles an incident in which four of the town's white high school football players were charged in the beating death of a Mexican immigrant named Luis Ramirez. Turnley gains remarkable access to those on both sides of the conflict, from Ramirez's young wife to one of the young attackers, Brian Scully, who experiences a sense of guilt and remorse, and abandons football to find a kind of redemption performing in a high school production of "Into the Woods."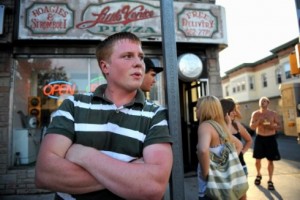 It is a testament to Turnley's profoundly sympathetic film that Scully comes across as a victim as well as Ramirez. That's not to say that their tragedies are equal, it's that Shenandoah shows the cultural circumstances in which Scully and Ramirez both found themselves entrapped. While the white boys succumbed to social pressures and felt the displaced anger that comes along with the industrial collapse of a coal-mining town, Ramirez bore the brunt of their confusion and rancor. In many ways, the film also points to a classic tale about the sins of fathers—who, in this case, tried to cover up the crime—being passed on to sons, tragically acting upon sentiments that had long been bubbling up in their community.
This legacy of violence—and its effects on the young—is the central theme of The Children Next Door, Doug Block's searing short documentary about an extreme case of domestic violence and the four children caught in its throes. In 2006, Brad Waldroup exploded with rage, shooting and maiming his wife of ten years, and killing his wife's best friend—all in front of their kids. (The real life 911 phone recording that opens the film is deeply chilling). Though only 36 minutes, The Children Next Door attains a level of pathos as deep as any feature-length documentary. When the mother tries to read a letter her husband wrote from prison, her face contorts and twists along so many different emotional registers, from pain to fury, it's enough to make viewers wriggle in discomfort as well.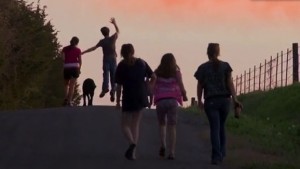 Even though Block includes shots from an episode of Dr. Phil, in which the wife appeared after the incident, the film avoids the pitfalls of sentimentality in favor of a more subtle approach. For the most part, Block holds back, showing the pain and denial on his subject's faces—particularly that of the oldest daughter who once idolized her dad—without milking it for emotional effect.
And like Mea Maxima Culpa, The Central Park Five and Shenandoah, the film takes the intimate story of these youngsters grappling with their own personal tragedies to make a case for the millions of others who have similarly suffered. And there's perhaps nothing more unforgivable than acts of cruelty committed against a young person. It's not just unfair, or wrenching, or tragic: It's an indictment of the world we live in.
Anthony Kaufman has written about films and the film industry for The New York Times, The Los Angeles Times, The Chicago Tribune, The Village Voice, and Slate. He is currently a regular contributor to Variety, The Wall Street Journal Online, Filmmaker Magazine, The Utne Reader, and writes the ReelPolitik blog for Indiewire.com.