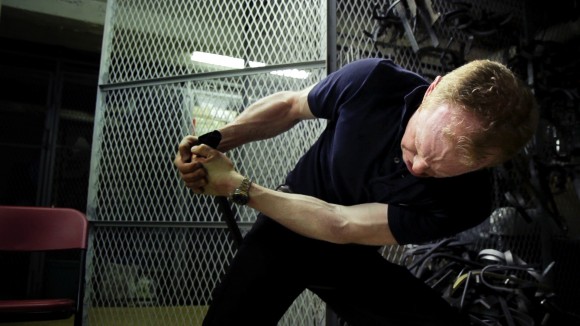 During the actual ten days of the Tribeca Film Festival, with its red carpet star sightings—Naomi Watts! Zac Ephron!—and celebrity talks—Ben Stiller! Clint Eastwood!—it's easy to forget that the fest has become one of the country's preeminent launching pads for documentary films. The Devil Rides on Horseback, The War Tapes, Jesus Camp, Taxi to the Dark Side, Client 9, Racing Dreams, Jiro: Dreams of Sushi and Planet of Snail are among the stellar nonfiction films that had their North American or World premieres at Tribeca. While these docs might have gotten shorter shrift from the paparazzi, their legacy has endured long after the flashbulbs stop popping.
While I've only seen a small handful of the roughly two-dozen documentaries featured in this year's festival, this year's program offers further proof of Tribeca's importance as a nonfiction showcase.
Take Bending Steel, which is more than just a story about the return of an "old-school strongman," as aspiring steel-bender Chris Schoeck (rhymes with Shrek) calls himself. While Dave Carroll's sensitive debut film could fall into a line of sports documentaries about individuals overcoming the odds—which are in abundant supply at Tribeca thanks to its partnership with ESPN Films—Bending Steel is a subtler observational film, with an astounding unforeseen arc. For the first half, Schoeck comes across as an asocial outcast, hard to like and easy to mock—rather than relate to people, he instead obsesses over bending a 2-inch-thick metal bar. And unlike the legendary strongmen he idealizes, Schoeck, fair-haired and not exactly brawny, is a shy and awkward performer.
One is tempted to criticize the film for exploiting poor Chris as just another freak-show in a long line of Coney Island freaks during these early sequences. But the filmmakers do an excellent job of slowly peeling away the deeper psychological obstacles that stand in his way, from bouts of alcoholism to unsupportive parents. Rather than look at Chris from afar, you begin to root for him. And what seemed initially like a masochistic habit—at one point, he chips a tooth trying to bend a coin in his teeth—bending metals becomes a beautiful metaphor for breaking through the unyielding objects that stand in anyone's way.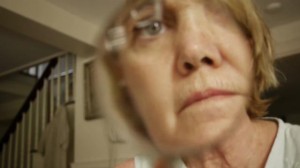 Another intimate documentary, Banker White's The Genius of Marian examines how Alzheimer's disease affects the lives of both the filmmaker's grandmother, a recognized painter who passed away, and more urgently, his mother, who has just been diagnosed. An appealing mix of interviews, archival montages, and well-composed cinematography of the subjects' lives on coastal Massachusetts, the film becomes a sad portrait of the inevitable deterioration of his mother's mind. In a doctor's office, White lets the camera linger awkwardly as his mom can't identify simple flashcards of objects such as a boat. Things quickly get worse, and the filmmaker depicts with unflinching candor—and adoration—the toll the disease takes on his loved one, showing her turn from a once vibrant actress into a lost and vacant person.
If you think The Genius of Marian sounds cheery, wait until you get a load of Oxyana, a relentlessly grim picture of Oceana, West Virginia, a post-industrial coal-mining town in the grips of an epidemic of drug addiction from painkillers such as Oxycontin. Early on, a doctor from a nearby hospital tells us West Virginia has the highest rate of prescription overdoses in the country—or as one local calls it, "they've been oxycuted." Eschewing credits and statistics, Sean Dunne's portrait of this "lost generation" of Appalachian residents relies mostly on the frank testimonials of its residents, from young women who all but admit to prostituting themselves for a fix to strung-out men who are barely comprehensible through their drug-addled, heavy-lidded haze. There are only so many shots one can take of people shooting up pharmaceuticals, but like Bending Steel's Chris Schoeck, if these addicts initially appear like some kind of freaks, hicks and hillbillies, we eventually come to see them as people in profound pain.
A powerful, more conventional documentary deserving of wider distribution, Dan Krauss's well-crafted and compelling investigative expose The Kill Team, hits all the right buttons: political injustice, moral outrage, and emotional catharsis. The film goes behind the scenes of the infamous "Kill Team," members of a U.S. Army infantry platoon who were arrested and convicted for killing innocent civilians in Afghanistan. The focal point of the story becomes the case of private Adam Winfield, a whistleblower who may have been a willing participant in the murders. Structuring the film around Winfield's trial in a U.S. military court, Krauss raises concerns about the fairness of a case being mounted by those who have a vested interest in how the results will reflect back on the Army. Is Winfield a scapegoat or a killer? What makes The Kill Team more than just another story of U.S. military iniquity is that the answer is probably both.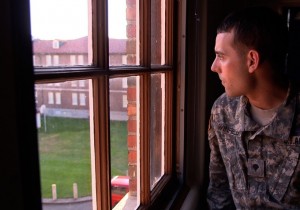 Krauss portrays a group of men who at first fit the stereotype of the Ugly American soldier ("'Fuck em,' says one infantryman about the Afghans, "You're there to help and they don't help you") and then, through extraordinary access to his subjects, also appear as victims of the system. Winfield, in particular, with his innocent eyes and thin frame, looks like a deer caught in the headlights of an oncoming Humvee. The Kill Team also makes the requisite and infuriating claim that the accused soldiers of the battalion are hardly exceptions, revealing a practice called "drop-weapon," in which soldiers leave machineguns and grenades on those they have murdered to justify their kills. One soldier quickly dispels the "bad apples" label that often becomes attached to those in the military who have been arrested for wrongdoing. "This goes on more than just us," he says, ominously. "We're just the ones that got caught."
Among the TV-ready documentaries at the festival, both The Trials of Muhammad Ali, destined for PBS, and Showtime's Richard Pryor: Omit the Logic go beneath the surface of their celebrity subjects to reveal the painful struggles both men endured. While Muhammad Ali's celebrated boxing career could alone make for a compelling feature-length doc, director Bill Siegel (The Weather Underground) chooses to focus primarily on Ali's fights with the American establishment over his chosen Muslim identity, which makes for a shrewd and provocative post-9/11 commentary. From throwing punches in the ring to verbal sparring with news commentators and college students, Ali is shown as a man constantly at odds with those around him, staying faithful to the Nation of Islam and his criticisms of the Vietnam War, no matter the cost to his livelihood. The film could be called "Muhammad Ali vs. The United States of America."
With a vast collection of archival clips and interviews, the film moves along at a swift clip while raising thorny questions about race and religion in this country. While some viewers might be turned off by the dominating presence of the controversial and ever-smiling Rev. Dr. Louis Farrakhan in the film, he does provide one of its most fascinating anecdotes: While receiving the Medal of Freedom from George W. Bush decades after Ali's battles over civil rights and liberties in the 1960s, Farrakhan says Ali responded to the event with the cynical and dismissive retort, "Still a nigger."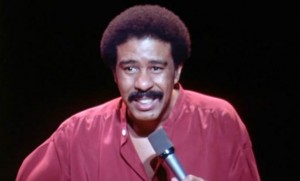 Richard Pryor, the famous comedian, might agree. Marina Zenovich's documentary portrait of the illustrious black funnyman addresses Pryor's button-pushing racial humor—his early successful comedy album "That Nigger's Crazy" flummoxed white commentators afraid to say the "n-word"—but also exposes a far more disturbing picture of the man. While there's little new here for those who know about Pryor's troubled life—he grew up in a bordello, under the thumb of an abusive father and grandmother, and then later descended into violence and drug addiction—Omit the Logic provides revealing footage of Pryor's highly contested battles with NBC and his attempt to make a comeback after a near-fatal suicide attempt.
Celebrity docs are always prevalent at Tribeca, but it's refreshing to find examples of the form that don't sugarcoat their subjects, and like the best of nonfiction, show there's always another side to the story.
Anthony Kaufman has written about films and the film industry for The New York Times, The Los Angeles Times, The Chicago Tribune, The Village Voice, and Slate. He is currently a regular contributor to Variety, The Wall Street Journal Online, Filmmaker Magazine, The Utne Reader, and writes the ReelPolitik blog for Indiewire.com.