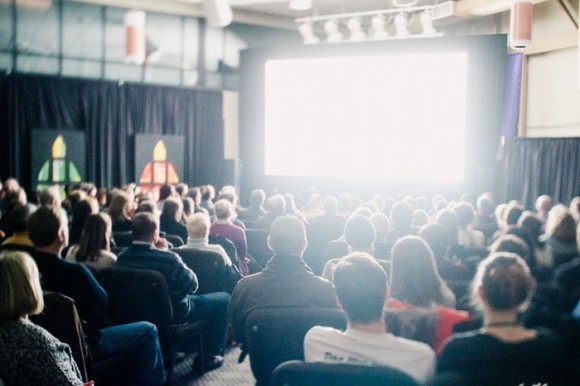 This year's True/False Film Festival took place from February 28 to March 3, 2013 in Columbia, Missouri. While this was the tenth annual iteration of the documentary festival, film critics Nick Pinkerton and Nicolas Rapold were on their maiden voyage. SundanceNOW asked them to volunteer their thoughts and observations in the form of a free-flowing dialogue.
Nick Pinkerton: True/False is a good time. I think Evelyn Waugh would enjoy himself at True/False. I think Thomas Bernard would. I think Charles from The Devil Probably would even crack a smile in Columbia, Missouri. I've always been distrustful of "scenes" for their capacity to blur critical clarity—everyone going around telling everybody else they're great, don't ever change—but sure enough I went soft by day two. Watching one of the "busker" groups before a screening, about whom I'd usually have thought, "Ugh, these guys sound like the freecreditreport.com band," I instead thought, "Hey, if this is part of this whole lovely ecosystem, God bless it." I may have even said "vibe" at some point. But something that interests me about True/False is the way the overall likability and hospitality of the festival and of the town contrasts with the programming, which is for the most part formally-ambitious and often pretty tough stuff—by no-means audience-pandering.
Nicolas Rapold: I too was suspicious, especially when I heard the verb "experience" applied to True/False in lieu of "attend." But fortunately the high quality of the programming never put me in the awkward position of praising the hospitality for want of anything else to say. Some of my increased feeling of well-being came from seeing theaters packed for the likes of a Chilean film featuring old folks in a nursing home waiting to die. It made me vaguely ashamed of the single-digit audience turnouts not infrequent at challenging programs back home in bonnie New York. Obviously the festival is a special event, but where are these curious moviegoers of many ages when I sit nearly alone at something awesome at Anthology Film Archives, wiping last-minute-samosa grease off my hands? Are my eating habits perhaps driving away potential waves of repertory enthusiasts?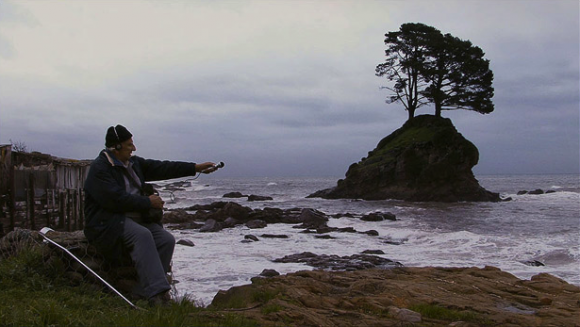 Nick Pinkerton: The movie you are referring to, of course, is Cristian Soto and Catalina Vergara's The Last Station, which, with its highly composed images—a face perfectly framed in a small mirror at the bottom of a drawer comes to mind—and lack of the instructive graphics and contextualizing voiceover that mark the infotainment documentary, is fairly representative of True/False's programming. As for the cinema savvy of the average Columbian (Columbianite?), I must agree—the only time anything like "Oh my stars" prudery emerged was in a screening of Peter Whitehead's The Fall, when a Destructionist theater group pummeled a live chicken to pieces against the wires of a piano they'd already chopped into kindling with an axe, after which half of the crowd walked out to protest the senseless death of some poultry in 1968. This played as part of a sidebar called Neither/Nor hosted by Columbia's one FULL-TIME cinema, The Ragtag. The bill-of-fare was made of historical precedents to the festival's signature dish, neither-fish-nor-fowl documentaries that blur the boundary between… well, you know the rest. Jim McBride was there with David Holzman's Diary, while the Neither/Nor series was curated by some New York critic called Eric Hynes, who sort of looks like the Hip, Concerned Teacher in an after-school special from 1981. Where did they get that guy?
Nicolas Rapold: Or like MSCL? It was under the auspices of the Neither/Nor series that 1 P.M. screened, with its indelible image of Godard engaging in fierce dialectic with an inkily mottled kitten by means of placing his tie upon its head. The nimble verité hands of Pennebaker (zooming and observing where Godard might have cut) brings to mind the deft camerawork and lucent images in so many of the contemporary films on display. From The Last Station to Northern Light to Sleepless Nights, it became refreshingly clear that a high standard of filmmaking was generally a prerequisite, rather than a bonus, for the festival's selections, rather than prioritizing the flattering of political consciences. Which would perhaps be a less obvious thing to say if positive reviews of many documentaries didn't simply mean the reviewer supported the cause in question. But I digress: Northern Light featured another fine pet moment in one dog's tail-chasing whirlwind, joyously unable to help himself, no matter the inner-ear hangover to follow.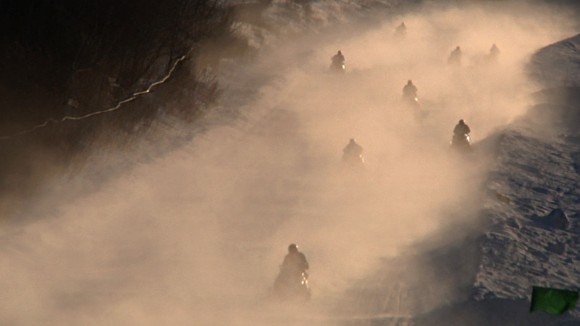 Nick Pinkerton: I quite liked Northern Light, which gave a heroic treatment to a stoic, can-fix-anything Upper Peninsula dad reaching his last years of competitive snowmobiling, one of the many variations on the theme of competition that the film plays on. There were a lot of magnetic characters in this lineup, like Omar, the fierce little cur in Pakistani orphanage-set These Birds Walk, or the principal duo in Lebanon's Sleepless Nights, partisans of both sides in their country's civil war, now united in their inability to forget its events. But didn't I say earlier that this was a FUN festival? Certainly the fact that Columbia has three universities within its limits (the University of Missouri, Columbia College, Stephens College) helps, but True/False has such broad appeal because it matches pretty tough art to a post-screening social pressure-valve, which is to say binge drinking in good fellowship. The aforementioned New York houses are going to have to start doing something like this if we're to re-stock the ranks of arthouse-goers with youth, because lord knows the kids will just Snapchat each other selfies and go to rainbow parties otherwise.
Nicolas Rapold: True/False did have the knack of a good host for putting people at ease and fostering stimulating conversation (which, more than is usual for the festivals I've visited, involved the voices of filmmakers too). All of which was a good counterbalance to the common festival temptation of cramming in as many films as possible during a limited stay. It also helps to be watching a film like Sleepless Nights, since its sheer density of ideas and restless trajectories and tricks throw more at you than several films. Perhaps the most magnetic character, palpably so, is the woman behind (and sometimes in front of) the camera, Eliane Raheb, whose formal and emotional energies drive the movie without getting in the way of its investigations of histories—both personal and national. That kind of success seemed more the rule at the festival than something like Expedition to the End of the World, about a journey through the Arctic by a ship of irregulars, which struck a couple of poses without really getting anywhere.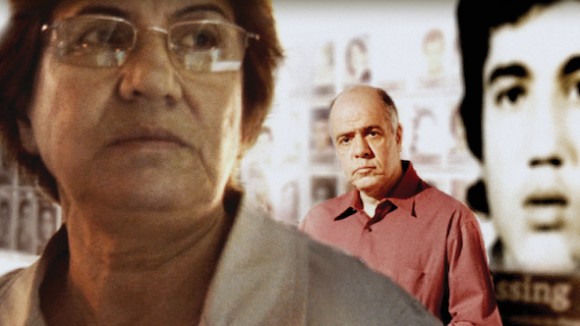 Nick Pinkerton: Nic, we're trying to keep the True/False scene posi here, bro! Don't harsh it! Of course no festival can hope to bat 1.000. My least favorite among the things I "saw" was another film about life lived in extremes of climate and geography whose relentlessly plucky soundtrack sent me running for the aisles in the space of twenty minutes (having not gone the distance, I will graciously let it remain anonymous). As you mention, the filmmakers were as a rule on-hand to present their work, with the notable exception of Andrew Bujalski, who performed a Skype Q & A for Computer Chess that was apparently beset by non-ironic technical difficulties. There were also more than a few filmmakers there without films to show, like Bill Ross (45365, Tchoupitoulas), who, shortly after arriving on Thursday night, I was made to bodily carry and hand off to someone else in the Eastside bar, for reasons that will forever remain shrouded in mystery. Mr. Ross was a contestant on the annual Gimme Truth! game show, in which panelists review a program of documentary-style shorts, the content of which they must deem "True" or "False." Played in the intermission was a superb short called Catnip: Egress to Oblivion. Along with Joe Callender's Tina Delivers a Goat, which played before one of the fest's six hush-hush secret screenings, Catnip is destined to be added to the Library of Congress' list of significant films. I should talk about the startling A Story for the Modlins as well, by Gimme Truth!'s token foreigner, Sergio Oksman, but I fear I am rambling on.
Nicolas Rapold: I confess to being surprised by Tina Delivers a Goat, partly because, from misunderstanding the title, I had expected a celebration of the miracle of live goat birth. But if live goat birth was lacking at True/False, the festival amply made up for it with its snow-defying bonhomie and pleasing variety of theatrical venues, which included a jazz club, church, hotel, and of course the two-screen bakery-bar-cinema home-base Ragtag. Not once during any of the features, nor the polyphonic panel discussions running prior to and parallel with the fest, did I notice the utter absence of freshly born goats. On the contrary, most of the films (which I will cover in depth elsewhere) made me wish I could sit through them again, with the possible exception of a snazzy short involving primates that was disturbing in the way watching humans in threadbare monkey suits raising hell and rutting can, in my limited experience, be. The crowning irony of True/False is that its nuanced, hybrid selections, prizing people and filmmaking over messages and arcs, couldn't be further in spirit from the procrustean dichotomy of the fest's name—and hurrah for that!
Look for Nick's official wrap-up of the festival in Artforum, and for Nicolas's in the pages of Film Comment.