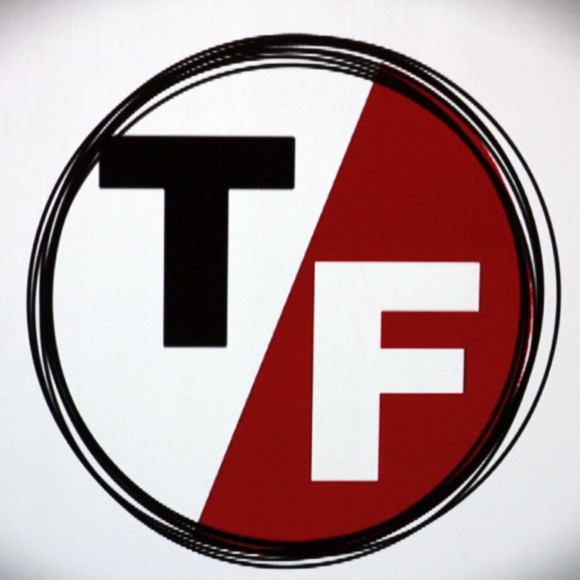 This year, SundanceNOW was a proud sponsor of the 9th True/False Film Festival. Eric Hynes and Farihah Zaman attended the fest and have been dialoguing about their experiences. Here's the result.
Eric Hynes: Farihah, It's been about three weeks since the conclusion of the True/False Film Festival, and I'm still feeling the withdrawal. That may sound absurd considering the festival is just four days long—less than half the length of Sundance or Toronto—but it speaks to the singular allure of both T/F and host city Columbia, Missouri. Whereas most festivals require a certain degree of recovery—from the hassle of transit, from the queues for screenings, from the rat races for access and invitations, from the appalling dearth of sleep and sustenance—True/False felt more like a retreat. I saw 16 films in 3 and ½ days and never once felt overwhelmed (and scarcely felt disappointed by what I saw).
Farihah Zaman: I left T/F and went immediately on to South by Southwest, which continues to mutate from a quaint music 'n' screenings festival into an industry-driven clusterfuck. Although T/F has been garnering much more press in recent years, it's clear that the festival programs for a loyal non-industry audience of film-lovers from the region who don't normally have access to this kind of work. I don't necessarily mean to criticize other festivals here so much as compliment T/F. Even with its much more manageable crowds, how exactly one can see five films a day, attend a bevy of unique social activities and still enjoy luxuries like sleeping and eating is a mystery to me. It feels like some kind of event production magic.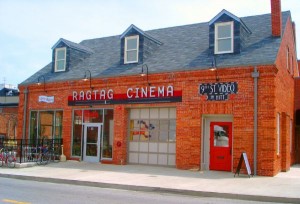 EH: Well, since all festival screenings and events happen within, at most, a ten-block radius, I never had to scramble to get anywhere. I ate often and well, from burgers at Booches Billiard Hall to a surprisingly good cheese pie at Shakespeare's Pizza, to indulging in mid-afternoon and mid-morning snacks (and, um, beer) at the Uprise Bakery, the house café of the RagTag cinema.
FZ: While I wouldn't describe Columbia as the next big foodie destination, I also had some delicious local treats, from lake trout, to barbecued duck wings, to only-find-them-in-Missouri Billy Goat potato chips which are, officially, my new addiction. Beer appears to be the region's beverage king, with a number of microbrews from the brewery right in Columbia readily on tap. And I'll second you about the food at the Uprise, whose bread was so consistently fantastic it led me to wonder if there is something special in the water, a la rumors about Brooklyn pizza and bagels. I loved the RagTag in general, with the super cool video store attached and the cozy theaters with their hodge-podge of mismatched vintage couches.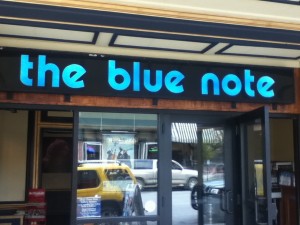 EH: Despite the coziness of Columbia, with its population of just over 100,000—about a third of which is comprised of students from the University of Missouri and two other colleges—the quality of the venues and the presentation of films equaled that of big city fests, and far outmatched them in terms of charm. For me, the most fascinating venue at True/False is The Blue Note. Originally the Varsity Theater, an old 1920s vaudeville theater/movie palace that was converted into a rock club in the 1980s, and that hosted the original RagTag Film Society in the late 90s (before it found a permanent home in a former Coca Cola bottling factory), the Blue Note switches back into a cinema for the festival—without losing any of its low-lit, sticky-floored, charm. A secret screening of a film that takes New Orleans as its backdrop (secret screenings, in which neither the film's title nor its filmmaker are announced in advance, and all press is embargoed, allow the festival to smuggle films into Columbia without spoiling their world premiere), was preceded by a rafters-rattling set from Why Are We Building Such a Big Ship?, a band that also hails from New Orleans. It's one of the great novelties of True/False: each screening is preceded by music from one of a few dozen "buskers" that hail from everywhere from Columbia to Paris. Without fanfare, and because of the secret screening rules, without any advance word, Saturday night at the Blue Note became an exquisite, Columbia-style celebration of the Big Easy. And not the New Orleans of cultural mythology or 21st century tragedy, at least not overtly, but rather a New Orleans of inclusivity and unpredictability—the very values that True/False promotes—both from the film and the big band's fusion of roots rock, honky tonk eccentricity and intricate, tone-shifting songwriting.
FZ: One of my favorite pairings on that front was the satisfyingly folksy-grungy vibe of sort-of-local band (they are partially based in Columbia) Jerusalem & the Starbaskets, who opened for the omnibus found-footage horror film V/H/S. Not only was their brand of indie rock appropriate for the gritty, thoroughly enjoyable chiller, after the band wrapped up their set it was announced that drummer Kim Sherman (aren't the most badass of lady musicians always named Kim?) was actually a Segment Producer on the film. While V/H/S premiered at Sundance, I was happier to see it in Missouri. The film is comprised of several segments directed by the likes of Ti West, Joe Swanberg, and other such Indie It-boys that are treated to look like low-quality found footage and nimbly toes the line between fiction and nonfiction implied in the festival's title. T/F's willingness, even eagerness, to screen such fare despite being billed as a documentary film festival represents an important distinction from other more traditional celebrations of non-fiction.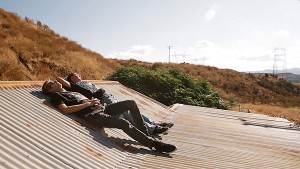 Only the Young, a funny yet wryly poignant look a handful of preternaturally smart Evangelical skatepunks in an economically depressed California town also messed around with the true and false. Elizabeth Mims and Jason Tippet's debut feature, which easily marries frank youthful candor with sequences either staged or constructed in post (like a beautifully shot slo-mo sequence of skateboards passing each other in mid-air set to 70s soul) has been garnering comparisons to both Dragonslayer and Bombay Beach, but carves out a unique space for itself. It was one of those films that simultaneously inspired thoughtfulness and a kind of warm exhilaration that leaves you in exactly the right headspace to attend one of the festival's nightly parties. Apparently the nouveau-rave thing is still going strong in Columbia, and if the scene at one particularly labyrinthine venue decked out in neon lighting and B&W video installations is any indication, it was not 'only the young' that took part in the non-screening festivities.
EH: At Campfire Stories, hosted by the local Odd Fellows Lodge, visiting filmmakers stood next to an artificial, makeshift fire pit and told stories that, for whatever reason, didn't make it into their films. Besides exposing why the participants are better suited to filmmaking than public speaking—staged storytelling is truly an art unto itself—Campfire Stories appealed to festivalgoers' seemingly inexhaustible curiosity about the documentary filmmaking process, and their refreshing acceptance of the ways that reality is shaped and manipulated into film. Back at the Blue Note, tongue-and-cheek quiz show Gimme Truth! challenged three game (and increasingly intoxicated) filmmakers to judge whether submitted (seemingly student) shorts were based in truth or fiction. All ten micro-budgeted and micro-length films played it for laughs, "documenting" everything from cross-dressing hunters to dog testicle replacement devices, which confounded everyone but Detropia co-director Heidi Ewing, who managed to guess 8 out of 10 correctly. That the festival can poke fun at the often anxious line between fact and fiction while also showcasing some of the best, most committed and aesthetically accomplished documentary films, and make it all seem like a communal act rather than a furtive, underground movement, shows why those four days can be hard to shake, and how, even from my privileged perch in Brooklyn, New York, Columbia is worth pining after.
FZ: I've gone from pining to withdrawal to actual nostalgia. I plan to make up for it (or indulge it?) by tracking down everything ever made by Victor Kossakovsky, a Russian filmmaker who is hugely famous and popular in his home country but relatively unknown on American shores and certainly unknown to me before True/False honored him with their centerpiece award. The festival screened his first film, The Belovs, a perfect portrait of a brother and sister living together in rural Russia that feels like a darker, post-Soviet Grey Gardens. They also programmed his latest film, the far slicker but equally soulful ¡Vivan las Antipodas!, a concept film exploring communities directly opposite one another on the globe, that combined smart, quirky touches like laying music from the Chilean countryside over the footage of its antipode, Shanghai, China, with enough jaw-dropping cinematography to make an IMAX film jealous. After wrapping up a video interview for SundanceNOW, Kossakovsky mentioned that was going to go see Detropia as inspiration for his new film, a 3D love letter to the city of St. Petersburg. One can only hope it'll premiere at at True/False 2013.