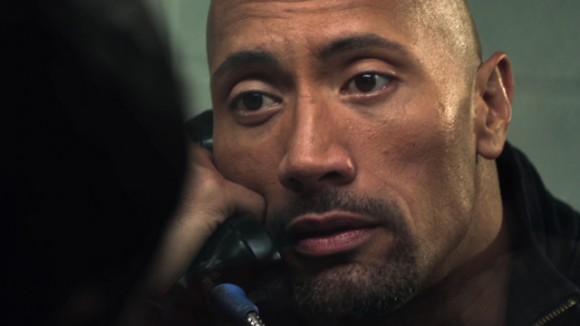 What do Dwayne "The Rock" Johnson's newest blow 'em up blockbuster Snitch and PBS's hard-hitting investigative news show Frontline have in common? More than you'd ever believe.
It's not completely uncommon for Hollywood action thrillers to borrow from real-life events—witness Tony Scott's freight-train-run-amok movie Unstoppable or Andrew Niccol's arms dealer flick Lord of War. But never before has a movie that looks like a sequel to The Rock's Walking Tall had a credited producer who is also a longstanding member of the documentary community, a five-time Emmy-winner known for producing such outstanding pieces of long-form journalism as "The Torture Question" (2006) and "Bush's War" (2009). Snitch happens to be the first Hollywood movie ever adapted from the 30-year-old archives of Frontline, based on a 1999 broadcast also called "Snitch."
The original PBS documentary investigated fundamental shifts in the country's anti-drug laws, such as federal mandatory minimum sentencing and conspiracy provisions, which arguably spawned a culture of snitching that often rewarded the guiltiest and punished those who were comparatively less guilty. The Hollywood movie was inspired by one of the stories recounted in the documentary: of 18-year-old Joey Settembrino, who received a ten-year mandatory minimum sentence for selling LSD, and his father, James Settembrino, who tried to obtain a lower sentence for his son by working for prosecutors as an informant.
"It's just a great, inciting circumstance," says veteran Frontline executive producer David Fanning, who is also a producer on Summit Entertainment's Snitch. "As a storyteller, that's an idea worth following up on." While Fanning admits that Snitch is ostensibly an "action film," he reasons that, "it does have a message about these mandatory sentences, so there's a serious issue that lies behind all of it, and the film dramatizes it. So it has some value in impacting public policy."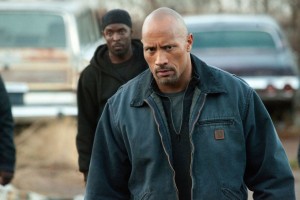 Indeed, Participant Media, which Jeff Skoll founded on the principle of social responsibility, and which has launched such activist entertainments as An Inconvenient Truth, Food, Inc. and Waiting for "Superman" into the public consciousness, has gotten behind Snitch with a full-fledged social action campaign. At partnering site TakePart.com, visitors can find fancy infographics with startling statistics (45% of people on death row are innocent), links to articles about overpopulated prisons and drug sentencing disparities by respected journalists, and a petition that calls for ending mandatory minimum sentencing ("One-Size-Fits-All Prison Sentencing Fits No One: End Mandatory Minimums!")
Such efforts are laudable, for sure, and highly progressive in their politics, but are they a bit misplaced?
How does such a politically activist mission play within Snitch's target demographic? The film may have been partly inspired by public policy issues, but what percentage of the audience for the movie really gives a damn? Despite the fact that mandatory minimums are given ominous weight in the Snitch trailer—it's mentioned twice in the 2:27-minute preview—there can be little doubt that fans of The Rock will be more interested in watching the former pro wrestler body slam a Mexican ex-paramilitary drug kingpin (played by a goateed Benjamin Bratt).
Imagine if Participant had launched a similar effort around Eugene Jarecki's acclaimed "War on Drugs" expose The House I Live In, which covers much of the same territory as Snitch, but without the exploding cars, machine guns, and semi-truck crashes. In backing this action vehicle for The Rock, Participant's goodwill may be lost in the film's hail of gunfire.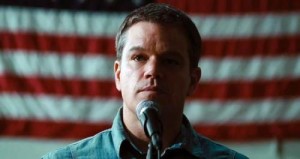 Consider another recent example: Gus Van Sant and Matt Damon's Promised Land, which Participant also backed. Though the film earnestly addressed the controversial natural gas drilling practice known as fracking within a widely distributed entertainment, Gasland, Josh Fox's 2010 Oscar-nominated documentary tackled the issue with much stronger force, provoking audiences and the environmental community to fight back, ultimately engendering hydrofracking bans in several cities.
That said, Hollywood films with nuggets of social conscience arguably have a larger reach than independent documentaries, and can thrust important topics into the popular culture. The Day After Tomorrow certainly grabbed some headlines, and was fodder for cable news chats and op-ed columns, even though those who saw that movie likely wanted to watch the world end, not learn a lesson about how to save it from climate change. Yet regardless of what prompted them to buy a ticket, there were undoubtedly moviegoers who learned about climate change and got to see the collapse of major metropolises. Or in the case of Snitch, surely there is some social good in showing audiences the unfairness of mandatory minimum sentence guidelines, particularly for those who are unfamiliar with the issue.
But what do these films ask of their audiences? In the violent, revenge-laden genre to which Snitch belongs, it's usually vigilante justice that emerges as the dominant theme, not social injustice. Too often these films undermine the lived experiences of those who have suffered under social wrongs for the sake of clean narratives and pat conclusions. We can't exactly blame The Rock alone: It's difficult for any 90-minute glossy drama, starring handsome A-list actors and actresses, to capture the weight and reality of social problems compared with a probing documentary, which chronicles the distress of real people over an extended period of their lives. While documentaries raise issues, Hollywood dramas resolve them, shutting down the spark for activism.
As Fanning admits, "I think people are attracted to true stories: They want to use the authenticity of it. But when confronted with the necessity of the dramatic arc and narrative demands to make a movie work, you have to start inventing. And that's tough to do well."
Anthony Kaufman has written about films and the film industry for The New York Times, The Los Angeles Times, The Chicago Tribune, The Village Voice, and Slate. He is currently a regular contributor to Variety, The Wall Street Journal Online, Filmmaker Magazine, The Utne Reader, and writes the ReelPolitik blog for Indiewire.com.