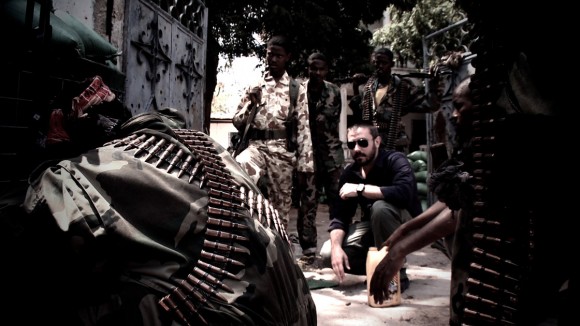 Shortly after the outbreak of Operation Iraqi Freedom in 2003, a slew of documentaries were released that sought to capture the disturbing and devastating effects of the war on U.S. soldiers and Iraqi civilians. Then in 2010, a trio of prominent docs—Restrepo, Armadillo and Hell and Back Again—depicted the ongoing struggle to stabilize Afghanistan. But America's ongoing foreign entanglements eventually faded from nonfiction filmmakers' foci, likely as a result of a kind of combat-related media fatigue in the documentary marketplace. Until now. Thanks to Richard Rowley's captivating Dirty Wars, as well as a handful of other new war docs, the sub-genre appears to be not only resurgent, but reformed.
As the war on terror changes and evolves, Dirty Wars is a powerful example of how documentaries have evolved along with it. Rather than focusing on one location—the sand-swept urban environs of Baghdad or the rugged battlefields of Afghanistan—Dirty Wars follows intrepid journalist Jeremy Scahill from Afghanistan, Yemen, Somalia, Brooklyn and back, reflecting the vastly expanded new terrain of our current wars' multiple fronts.
Unlike many of the docs that have come before it, the movie does not share the point of view of those Americans caught up in fighting the war. While the film specifically addresses the rise of the U.S. executive branch's elite military corps known as the Joint Special Operations Command (or JSOC), the actual soldiers remain largely in the shadows. Indeed, the only fighting man we see in depth is clouded in silhouette, an anonymous Deep Throat whistleblower who speaks ominously—in a disguised voice—about a wave of ever-expanding and never-ending military ops, and the lack of oversight in which they are carried out.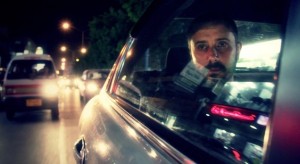 Like Greg Barker's recent Manhunt, which focuses on the C.I.A. analysts who helped track down Osama Bin Laden, Dirty Wars is more concerned with Intelligence, military secrets, and their deleterious effects than adopting a grunt's eye view. (Though Dan Krauss' recent Tribeca triumph The Kill Team relates the stories of a battle-weary platoon, it takes place distinctly outside of the combat zone, centering on an investigation into soldiers' past actions, subsequent court proceedings and larger questions about guilt, justice and responsibility.)
Dirty Wars also echoes Sebastian Junger's recent Which Way Is the Front Line From Here? a moving portrait of war correspondent and filmmaker Tim Hetherington, who was killed in 2011 while covering the conflict in Libya. Both films shift the focus of America's wars away from its participants to its chroniclers. And like Hetherington, Scahill isn't afraid to get close to his foreign subjects, becoming less an objective observer than an active and concerned global citizen.
By focusing on a Western reporter, Dirty Wars also gives viewers an effective surrogate in which to experience the conflicts. Scahill is essentially a standard everyman figure, doing his best to parse out what's happening around him. Indeed, Dirty Wars embraces a highly subjective style, aligning viewers with Scahill's point of view, and recalling the paranoia of one of Hitchcock's wrong-men, Robert Redford's Joseph Turner in Three Days of the Condor, or the moral fury of a Jason Bourne. Just as in those Hollywood films, we come to identify with Scahill and feel as if his hushed, concerned voiceover is whispered right into our ears.
Dirty Wars is also one of the most visually striking political issue docs in recent memory. Rather than focus on talking heads, director Richard Rowley, who deservedly won a best cinematography prize at Sundance, conjures a nightmarish vision of America's clandestine war on terror, which includes bleached-out, high contrast images of the dusty streets of Somalia and the war-torn deserts of Afghanistan. This intensely stylized representation of geopolitical events may be, on more thoughtful reflection, a little sensationalistic. Arguably, the U.S. military's killing of American-born citizens overseas should not look like the next installment of the Bourne franchise. The reality of what's going on is far more serious and disturbing than a Hollywood thriller. But as these wars drag on—for more than 10 years and counting—it may be necessary to seize audiences' attention with some visual panache.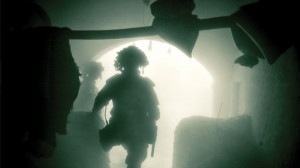 Only Danish filmmaker Janus Metz's stark, gonzo-style Armadillo (2010), with its similarly bleached color scheme and harrowing helmet-cam shots, approaches the textural and compositional flair with which Dirty Wars depicts the grim phenomenon of institutionalized killing. The editorializing aesthetics of that film certainly helped raise its profile beyond the many conventionally made docs that preceded it. After all, when a documentary looks like just another objective news broadcast, what's compelling viewers to see it on the big screen?
As America's wars rage on, hopefully documentary filmmakers will continue to chronicle them. But their biggest challenge will be finding new ways in which to bring those stories back to the home front. Otherwise, few people will be watching.
Anthony Kaufman has written about films and the film industry for The New York Times, The Los Angeles Times, The Chicago Tribune, The Village Voice, and Slate. He is currently a regular contributor to Variety, The Wall Street Journal Online, Filmmaker Magazine, The Utne Reader, and writes the ReelPolitik blog for Indiewire.com.