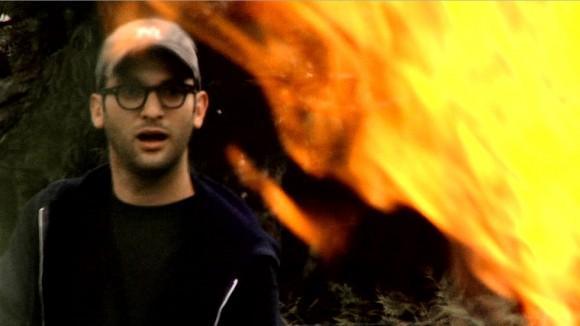 Josh Fox, the banjo-playing filmmaker who helped make "fracking" a household word with his Oscar-nominated film Gasland, has made a name for both himself and his cause by becoming the latest personal-documentarian-as-rabble-rouser. Not since Morgan Spurlock ate his way to fame, highlighting the dangers of fast food in 2004′s Super Size Me, has a documentary filmmaker influenced the cultural conversation in such a significant way.
That's not to say the environmental risks of hydraulic fracturing would not have come to light without Fox's 2010 exposé. But the film's most indelible image—of a Colorado man inflaming his tap water and igniting an explosion—became a highly effective visual meme, recycled on nightly newscasts around the world and seen virally on the web hundreds of thousands times. As John Hanger, former Secretary of the Pennsylvania Department of Environmental Protection wrote, "No doubt the picture and its repetitious showing raised public concerns about fracking more than anything else and by a lot."
With sequel Gasland Part II set to debut on HBO on July 8, the filmmaker gets another chance to stand atop his soapbox and bring the issue to an even wider audience. In advance of its premiere, Fox is touring the media circuit to increase awareness of his doc and the issues it raises. (According to Google Trends, the term "fracking" peaked in January and February of this year, likely as a result of a contentious anti-fracking campaign in New York State as well as the release of Gus van Sant's Promised Land, which also took up the issue.)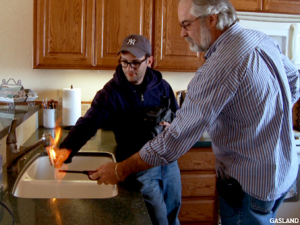 We should be careful not to overestimate the social impact of a single documentary. Many of the issues that prominent docs have helped bring to light—be it climate change or troubling practices within the food industry—were already bubbling up in the zeitgeist. But if cable news networks and Twitter feeds are easily distracted with whatever story is "trending" at the moment, documentaries like Gasland, An Inconvenient Truth and Food, Inc. have the ability to force us to pay attention—however briefly—to a single issue and potentially galvanize people around it.
In 2010, Fox's Gasland practically came out of nowhere to become a cultural touchstone. An avant-garde theater director, Fox didn't have much of a track record as a filmmaker. His 2009 debut feature, Memorial Day (2009) was an experimental provocation about U.S. soldiers on a Mardi Gras-type party furlough who eventually find themselves torturing inmates at Abu Ghraib. Few people saw it, and reviews were mixed, with the New York Times suggesting it moved, "from clever mock documentary to groan-inducing conceptualism."
But Fox's follow-up, a scrappy verité story of ordinary folks coming face-to-face with Big Oil & Gas, became one of the surprise nonfiction hits of the 2010 Sundance Film Festival. HBO bought Gasland for broadcast, the news media jumped on board, and Fox orchestrated an extensive campaign of popular community screenings; the film's profile further skyrocketed when it was nominated for an Oscar. Even now, three years after its broadcast, the original film remains on iTunes' list of most popular documentary downloads.
Perhaps one of the reasons Gasland became such a political sensation was thanks to its status as cult-like missive from the underground. It was a Sundance discovery, an Academy discovery and an activists' discovery, offering powerful and poignant stories of everyday Americans being poisoned, bullied and exploited by cold and callous corporations and government bureaucrats. In short, it was like Roger and Me in 1989.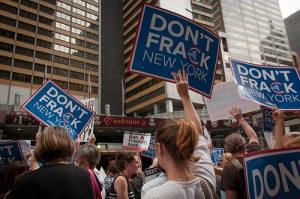 Gasland Part II, unfortunately, lacks that sense of discovery, recycling much of the argument and many of the exact same characters that appeared in the first movie, from a boisterous grand-mustached old Wyoming cowboy to the mayor of Dish, TX (so named for its free Dish Satellite TV service) to Al Armendariz, an SMU scientist turned regional administrator for the EPA. Gasland Part II comes across like a slickly packaged version of Gasland, with more polished cinematography and a few crucial updates—particularly, and most meaningfully, having to do with the people of Dimock, Pennsylvania's raised and dashed hopes for rehabilitation of their polluted water supply.
Gasland Part II does expand the argument of the first film, moving beyond the largely U.S. rural residents who make up the bulk of Gasland to higher class victims (a Texas millionaire, the city of Los Angeles) and international targets (farmers in Australia). Fox also digs further into the manipulative marketing campaigns of Big Oil & Gas, likening them to the fraudsters of the tobacco industry of yore. "Just as there is no safe cigarette," Fox says, during one of his ubiquitous voice-overs, "there is no safe drilling." It's a great line.
But such highlights are muddled by too many unsubstantiated and meandering claims made throughout the more than 2-hour documentary. At one point, Gasland Part II points to a sudden rash of earthquakes in areas that have recently been drilled, but rather than get quotes from, say, geological experts who have asserted a causation between the two, Fox talks to shaken-up residents and Iraq War veterans who, though obviously emotionally wound up in the issue, aren't objective sources. Neither are the parade of liberal congressmen (i.e. Dennis Kucinich) who suggest that corporations hold sway over Capitol Hill and its ability to regulate industry. Surprise, surprise. Even Fox acknowledges in a voice-over that such observations are hardly revelatory—so why is the sequence even included in the film?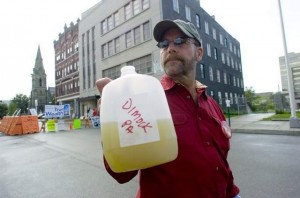 Furthermore, Fox's arrest at a congressional hearing comes off as self-indulgent and redundant. Far better is the sequence in which he shoots an extended close-up of an activist from Dimock who appears to have given up in her protest against the city's destroyed water supply. She simply silently looks at the camera, embodying the inability to protest or defend herself. For once, Fox is also silent, letting the woman's internal struggle speak for itself.
Fox should be applauded for his passionate multi-year campaign to keep the national conversation circling back to the problems associated with natural gas drilling. For that reason, Gasland Part II can be considered a major achievement. But as a film, like most sequels, it's just not as good as the first one.
Anthony Kaufman has written about films and the film industry for The New York Times, The Los Angeles Times, The Chicago Tribune, The Village Voice, and Slate. He is currently a regular contributor to Variety, The Wall Street Journal Online, Filmmaker Magazine, The Utne Reader, and writes the ReelPolitik blog for Indiewire.com.