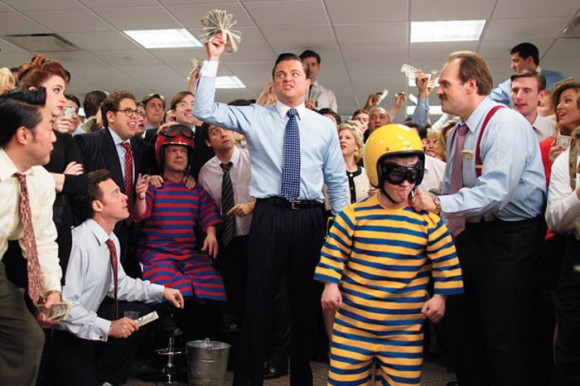 There's a lot of talk going around about The Wolf of Wall Street, and a lot of misperceptions to go along with the talk. For example: practically every mention of an early scene in which Leonardo DiCaprio's Jordan Belfort cavorts with a stripper has described Jordan as snorting coke off of her ass, though it's quite plain to me that he's either freebasing off of her ass or blowing coke up it. And that's just the beginning!
I've already filed my consumer report review of The Wolf of Wall Street, which will run in the February 2014 issue of Sight & Sound magazine, and even used this space to proselytize for it, calling it "one of the best American comedies—a sick, Rabelaisian kind of comedy—of this or any year" in a column otherwise devoted to The Boring Biopic. But as long as Wolf is prowling theaters, I scarcely have any desire to talk about anything else, and 179 minutes of such densely packed cinema is certainly worth its weight in verbiage.
Based on a memoir by buccaneer penny stock trader and multi-million dollar flim-flam man Jordan Belfort, The Wolf of Wall Street is anything but boring—in fact, for much of its runtime, the movie is a hoot—and this has been cause for concern in certain quarters. The idea is that in allowing us to laugh along with the antics of Jordan and his cronies through hours of unchecked hedonism—fucking in the office, finding every conceivable combination of erogenous zones and cocaine, breakdancing towards doomsday—the movie is making us somehow complicit in their actions. In part at least, this is exactly what's happening—much as we're made complicit watching along with Norman Bates as Marion Crane's car sinks into the bog in Psycho. When it stops with the bumper still in view, Bates goes rigid; then when the license plate disappears from view, we breathe a sigh of relief.
I suppose I like to have my head screwed with, because I saw The Wolf of Wall Street for the second time yesterday. The first time was at the Paramount screening room, located in the 54-story skyscraper in Times Square that's the corporate home for Viacom, which in addition to Paramount, owns Nickelodeon, Comedy Central, and MTV. I can't be the only viewer of a certain age who, while watching Wolf, had flashbacks to MTV in the 1990s, triggered not only by the soundtrack cues (Sir Mix-a-Lot, The Lemonheads, an anachronistic use of Foo Fighters' 1997 single "Everlong"), but by certain lifestyle-porn establishing shots. The crane approach to the poolside party at Jordan's Long Island party house is pure MTV Spring Break; while the head-on aerial dive towards Jordan's 167-foot super yacht, Naomi, with everyone on the top deck waving their hands in the air in time to the chorus of Naughty by Nature's 1993 single "Hip Hop Hooray," epitomizes the dumb exuberance that was the network's stock in trade. "Everlong" is anachronistic but spot on, for the spirit of the movie is that of the false-bottomed prosperity of the second Clinton term, the era of glossy power pop on Alternative FM and Bad Boy Records shiny suit videos on MTV, an interlude of heedlessness wedged between hostile grunge and gangsta in the early '90s and 9/11/01.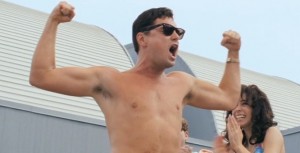 More than a few raves have accompanied the film's theatrical release, as well as a few knocks. Most attacks on aesthetic grounds have singled out the movie's length, its discursive, anecdotal structure, and its tendency to repeat itself. I found Wolf to be as fleet as its lupine title would suggest; and even when revisiting the same territory, which a film about wallowing must necessarily do, it devised fresh strategies for seemingly every new scene. There has also been some opprobrium suggesting that Scorsese and his screenwriter, Terence Winter, had either inadvertently or intentionally glorified their blackguard subject, thus feeding fuel to the fantasies of would-be Jordan Belforts everywhere. (Nobody seems to consider that the movie might possibly be a road to Damascus moment for the same undergraduate BrosDudes who they're afraid will have a volatile response to it.) Just this afternoon The LA Weekly ran An Open Letter to the Makers of The Wolf of Wall Street, and the Wolf Himself, a tone-deaf reading of the film from one Christina McDowell, daughter of another penny stock crook who was taken down by Jordan Belfort's testimony, who accuses Scorsese and DiCaprio of aligning themselves with and endorsing their subject's worldview.
McDowell's motives are clear: the public airing of personal tragedy, accompanied by a brief plug for a forthcoming memoir. She has skin in the game, at least. But what of film journalists? While smart critics generally make a virtue of "ambiguity" and "shades of gray" in festival fare or films that play for the self-selecting cinephile set, this sort of hand-wringing censure seems to be reserved for movies that, like Wolf, have a certain amount of entertainment value, and will potentially play for large, diverse audiences that, unlike cinephile sophistos, presumably aren't so well equipped to navigate the straits of moral ambiguity without binary lighthouses to guide their way. (Writing on Wolf has frequently invoked Brian De Palma's Scarface, a movie to be considered especially suspect because it was rediscovered by a primarily black and Hispanic audience.)
I saw The Wolf of Wall Street for the second time in Cincinnati while home for the holidays, at the Cinemark at Oakley Station, a 14-screen multiplex that opened this summer on the east side of the city, the first development in a vast swath of bulldozed dirt that presumably will one day blossom with retail. As I was waiting to buy a drink before the movie, I overheard a guy in line behind me, a beefy guy in the white Midwestern middle-class winter uniform of polar fleece and khakis, mention that he was seeing Wolf for the second day in the row. "I can't get enough!" he said. What precisely is it that he can't get enough of? Is it the same thing that brought me back? And how sure am I of my own motives? As it happens, I've never been gifted with Pauline Kael's mysterious omniscience with regards to audience desires, so I can only report on my experience of seeing the movie with a paying crowd. Wolf contains two domestic squabbles between Jordan and his second wife, Naomi (Margot Robbie), scenes that might be described as set pieces. The first is played for comedy: Naomi throws water in her philandering husband's face, and indignant Jordan, bouncing on the mattress, splutters and rages and tantrums. The other is played for horror: faced with divorce, Jordan twice strikes his wife, fortifies himself by inhaling an emergency stash of coke and, attempting to escape the house with his terrified daughter, endangers her life. The audience laughed at the first scene; gasped in audible horror at the other. This is to say, they seemed to experience a process of seduction followed by revulsion, something like what Naomi experienced, something like what I myself went through. When we talk about the audience, we should always be talking about ourselves. I suspect that much of critics' concern for what a movie might do to "the audience" is essentially based in their own discomfort. L'audience, c'est moi.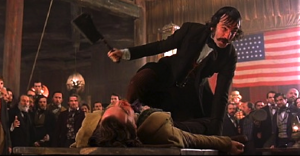 The idea of the audience is central to The Wolf of Wall Street, a film very much based on the dynamic of performance and spectatorship. In fact, its last image is of an audience: A crowd of slack-jawed New Zealanders who have gathered to see Jordan, now a gigging motivational speaker exiled to the far end of the world, in Auckland. Of all of our directors, the great cinephile Scorsese is uniquely attuned to the ways in which the American culture of entertainment not only influences and reflects our national life, but is the very stuff of it—that our public life is a theater in which scene-stealing men carve out their own leading roles in the narrative. The phenomenon predates cinema, and is as old as mass culture itself. In Gangs of New York, Daniel Day-Lewis's Bill the Butcher survives an assassin's bullet caught during an evening at the theater, then makes a point of dispatching his attacker in full view of the polis, keying his oratory to register in the last row of the upper balcony—in the process upstaging a performance of Uncle Tom's Cabin, the blockbuster of its day. Later, Bill explains his methodology to Leo DiCaprio's Amsterdam: "You know how I stayed alive this long? All these years. Fear! The spectacle of fearsome acts."
Scorsese understands that any American hoping to impose his or herself onto the world must necessarily make him or herself heard over a tremendous din, and must consequently be a bit of a ham. And while Jordan Belfort isn't a despotic Bill the Butcher, another kind of spectacle is essential to his success. Early in the film, a not-entirely-uncorrupted Jordan, having freshly arrived on Wall Street, is taken under the wing of veteran trader Mark Hanna (Matthew McConaughey, in a performance whose flittering oddness establishes the eccentric rhythm of the movie to follow.) Over a dozen-martini lunch, Mark explains the essentials to surviving in the stockbroker trade—lots of cocaine, jerk off at least twice a day, etc. Then, without warning, Mark asks Jordan to join him in a chant. The chant consists of both men beating their breasts in time while Mark lays down a da-dum-dum-dum beat, inserting an occasional odd, dying caw. It's like something you would hear around a cannibal fire, and this half-savage syncopation suggests two heartbeats synchronized into one, two men becoming a single organism.
Even if Jordan doesn't immediately grasp the symbolic importance of this piece of stagecraft, he takes it along with him. The next time we hear this chant performed, it's by the staff of his brokerage, Stratton Oakmont, with Jordan now setting the beat and leading the call-and-response. Jordan's sales meetings, for which the entire office stands front-and-center to be drilled by their leader, are the addresses of a general to his gathered troops on the eve of battle. What has disturbed some viewers, I suspect, is that these sales meetings make for riveting theater and, in watching them, one can get caught up in the sense of mission, of purpose. To succumb to the energy in these scenes is to admit that the same base drives and puerile fantasies that Jordan exploits exist somewhere in one's self. Here is where the convenient scapegoat of "the audience" comes into play, for of course they may be taken in, and it's them we're concerned about, not our sophisticated, enlightened selves. The Wolf of Wall Street is a film about insatiable appetites, and as such it needs to coax saliva. Leaving Wolf, one might have a hankering to huff a mountain of cocaine, just as leaving The Godfather one might have a craving for pasta sauce. This doesn't preclude both films from also stimulating higher functions.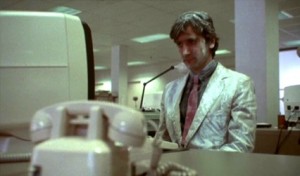 At the end of After Hours, Scorsese's 1985 stygian downtown comedy, Griffin Dunne's working stiff returns to his workplace after a hellish evening of being chased through SoHo, and plunks down at his desk to turn on his computer. Here the suddenly untethered camera begins to hurtle around the open floorplan, whisking past empty desks, practically bouncing off the office walls. It's an approximation of the ecstasy experienced when one returns to a controlled environment after being subsumed in chaos, and it's this same sweeping energy that runs through the sales meetings at the Stratton Oakmont office, as Jordan milks the adrenal glands of his ever-growing staff, conducting them like a choirmaster. In one meeting, as Jordan breaks to directly address a longtime employee (Stephanie Kurtzuba) whom he rescued from penniless single motherhood, you have a sense of the band-of-(mostly)-brothers affection and loyalty that ties this organization together. Scorsese's unobstructed, gliding camera gestures unite the entire office floor in common purpose, and in the knowledge that they are all in on a joke together—that in a world of suckers and sharpers, they're the sharpers. (Or, as Kanye West broke it down on this year's Yeezus: "You see it's leaders and it's followers/ But I'd rather be a dick than a swallower.") The unity is touching, even if the purpose is wicked.
By making us understand the appeal of being a part of a conspiratorial organization like Stratton Oakmont, The Wolf of Wall Street becomes a movie that isn't about "them" but "us." What matters isn't whether Jordan Belfort gets off the hook or not—though he only serves 22 relatively cushy months in penitentiary for his crimes, a matter of historically-accurate record, there's little doubt that he's left in a sort of purgatory at the end of the movie. What matters is that the movie leaves us on the hook, squirming.
Such destabilizing experiences aren't exactly common at the multiplex. On opening, The Wolf of Wall Street was inevitably compared to another movie also currently in a limited release, David O. Russell's American Hustle—much as Spring Breakers and The Bling Ring and The Great Gatsby were bundled together earlier in the year, a year of living larcenously in American movies. This isn't only because both Wolf and Hustle deal with the fine art of swindling, but because Russell, in his swinging technique and use of voice-over and pop music cues, is rather obviously drawing from Scorsese's style guide. Russell's piecemeal borrowing may be said to suit his movie's theme of forgery, though in another sense he couldn't be further removed from Scorsese. For Russell, beneath the false front of Christian Bale's elaborately toupee'd con-artist Irving Rosenfeld is a decent man dying to get out. For Scorsese and Winter, dedication to performance and externals eventually smother the inner individual, until the face becomes the mask. And speaking of masks: while I suppose some viewers will wonder, as one critic did, "What, exactly, does [Scorsese] think of these people?" I found the film's final judgment at least as clear as Robert Keith's in this Ida Lupino-directed episode of The Twilight Zone.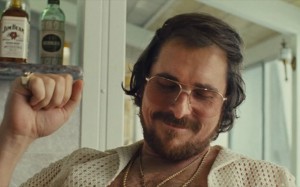 It's Irving Rosenfeld, not Jordan Belfort, who really gets away scot free. Hustle, incidentally, had begun life with another title: American Bullshit. The original script, by Eric Warren Singer, had landed on the 2010 Black List, an annual survey of the best unproduced screenplays as voted by Hollywood insiders. (Other entries on that list that were eventually filmed include J.C. Chandor's Margin Call, another boiler room drama, as well as Abraham Lincoln: Vampire Hunter and Will Beall's Gangster Squad. Why do people talk about the Black List again?) Hustle or Bullshit, the telling word here is "American"—telling because there's something immediately off-putting in movies that prefix their title with "American." There are a great many such movies, and offhand I can think of maybe three good ones. Claiming to speak for the national character right in the title invites hubris, especially when that analysis of the national character that comes with that "American" prefix always tends to say the same thing. It's along the lines of what Tom Carson somewhat guardedly states when dubbing Spring Breakers movie of the year in American Prospect: "I don't know about you, but at least some of the time, 'imbecilic but gorgeous' would be a pretty fair summary of how I view my homeland." So "American" becomes synonymous with young and dumb and cheap and plastic and tawdry. And of course all of that is America—but so is Transcendentalism and Abstract Expressionism and rock n' roll and The Invisible Man and Citizen Kane (original title: American) and Herman Melville, though people don't usually make movies about those things, and if they do they don't prefix those movies' titles with "American." Hustle, finally, is a very sentimental piece about kind-hearted crooks, trafficking in the sort of sentimentality that is the truest definition of American bullshit.
There happens to be a good bit in Wolf involving Melville: Jordan announces that he and his cohorts—recruited neighborhood buddies from Bayside, Queens—are going to start going after bigger pocketbooks at the newly-christened Stratton Oakmont, and he compares them to Captan Ahabs going after Moby Dick. When Jordan's dense pals don't know what he's talking about, he seems exasperated, but it's unclear if Jordan has actually read Moby-Dick himself. He seems to be under the impression that Captain Ahab successfully landed his whale, and you might be too if the only literary genre you were familiar with was Motivational. This is one of a number of nautical references in the movie, including an obnoxious pop-punk cover of The Beach Boys "Sloop John B." by a Fat Wreck Chords signee, a string of maritime symbols which culminate in the Naomi's eventual foundering in a Mediterranean squall, the sinking of this would-be Ahab's own Pequod—or is it the Titanic? (Incidentally, Melville wrote another book that makes a good companion piece to Wolf: The Confidence Man.)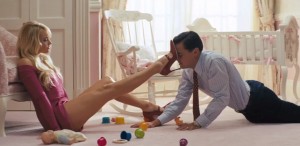 I shouldn't create the false impression that I'm a lone voice of reason facing an overwhelming pack of naysayers gathering against Wolf. There have been plenty of positive notices, though the "return to form" talk makes me wonder if some writers have seen any of Scorsese's 21st century output, and some of the baffled "Scorsese can do comedy!?" responses make me wonder if these writers have ever seen any of his movies at all. (To limit myself to an example from the 21st century, 2006's The Departed is full of riotously funny dialogue runs: "I'm gonna go have a smoke right now. You want a smoke? You don't smoke, do ya, right? What are ya, one of those fitness freaks, huh? Go fuck yourself.")
Few directors have Scorsese's sense of comic timing, which comes from studious observation of both the fine art of the put-down as practiced in masculine enclaves like street corners and boardrooms, and of the breadth of film history. (Watch for example his close read of a scene from The Gold of Naples, a little-discussed Vittorio De Sica farce of 1954, in 1999's My Voyage to Italy.) Skirting Wolf's obvious comic highlight, which involves industrial grade tranquilizers, the movie is a flurry of sucker-punchlines, including parenthetical digressions within scenes that come and go just quickly enough to elicit a blurted laugh and a sour aftertaste. On re-viewing, I think my loudest bray came when, shortly after the Naomi goes down, a disconsolate Jordan looks out the window of an Italian coast guard station just in time to see a plane inexplicably burst into flames. Leaving the theater, a friend and I both noted that this was remarkably close to a sight gag in Alex Winter's 1993 cult curio Freaked, and I wouldn't put any bit of borrowing past Scorsese. Certainly there's also more than a measure of Kane in Wolf, not just in the marching-band-in-the-office moment and the awestruck low angles, but in the champagne pop that opens one scene, as shameless a goosing as the screaming cockatoo that Welles 'fessed that he'd included to "Wake 'em up" in the audience. I also thought a great deal about Billy Wilder while watching Wolf, particularly One, Two, Three, for its manic pace and concern with sales culture.
Both Welles (in 1962's The Trial) and Wilder (in 1960's The Apartment) had occasion to rework a shot from King Vidor's The Crowd (1928), which showed an office floor as a vast sea of uniform desks, a vision of the white collar worker as an interchangeable unit in an impersonal bureaucratic gridwork of clerks. Though Scorsese has learned from his masters, he is not content to reiterate their ideas, so he gives us a new vision of the office as coliseum, as gladiatorial contest. His movie is a thing of barbaric splendor, not only "imbecilic but gorgeous," but brilliant and also hideous. It asks "For what shall it profit a man, if he shall gain the whole world, and lose his own soul?" and gives an answer nobody wants to hear: "Quite a lot, really." And with To the Wonder and Inside Llewyn Davis, it forms a trifecta of the best wide-release American movies of 2013—of which, more anon.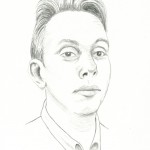 Nick Pinkerton is a regular contributor to Sight & Sound magazine and sundry other publications. He lives in Brooklyn, NY. Follow Nick on Twitter @NickPinkerton.