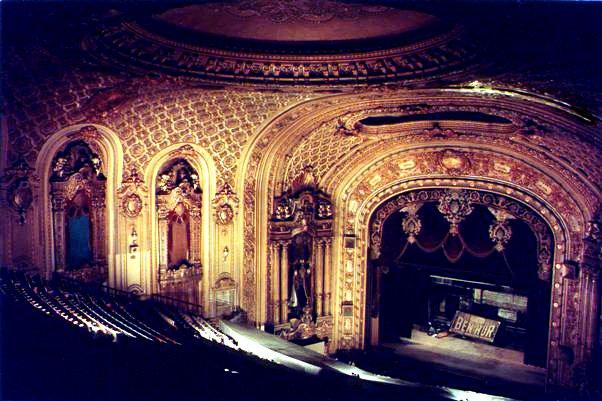 First the important stuff.
Stay in one place long enough and the memory of how you used to know it starts to haunt you—particularly if it's a place where property is as desirous as it is in New York City and its surrounding areas. I was already depressed about the news of Junior's and Photoplay Video shuttering when, a week ago, a friend posted a link on social media accompanied by the statement: "Don't bother working hard to make anything better. Honestly, it's totally pointless."
The link was to a statement issued by the Friends of the Loew's, a volunteer organization that was formed to oversee the repair, upkeep, and operation of the 3,021-seat Loew's Jersey Theatre in the Journal Square section of Jersey City. The Jersey Theatre is one of five Loew's Wonder Theaters, which were opened in 1929 and 1930 in the Greater NYC area and equipped specifically for new sound pictures. All of those Wonder Theaters are still standing today, though only the Jersey Theatre still shows movies. That is thanks entirely to the ongoing, indefatigable efforts of the FoL, a not-for-profit group founded by Colin Egan and Pattie Giordan.
The statement describes the dire circumstances facing the Friends of Loew's, a situation that came to pass as follows: Jersey City Mayor Steven M. Fulop is proposing to issue an RfP that would allow outside, for-profit entities to bid on the Jersey Loew's, and minimalize the FoL's input into the future of the Jersey Theatre to practically the point of negation. "Because Mayor Fulop doesn't understand what FOL does and why," the statement reads, "he doesn't value it, and even thinks he 'owes' it to Jersey City to reduce us to what effectively will be a meaningless role." This should not happen.
In 2012, after several years of irregular treks to Journal Square, I finally wrote a little something in The Village Voice about the Jersey Theatre, and the unique role that volunteerism had played in bringing the theater back to something of its former glory. Here is how it was described to me by Melissa Skolnick, a longtime volunteer: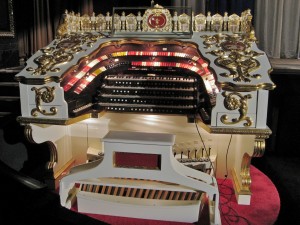 "There's just a core group that comes back every weekend. The people who fixed that organ came every weekend for a decade to fix that organ. It could not be more of a labor of love. I literally showed up at their door, and I wanted to help. And instead of just giving me a job, Colin talked to me for hours about the theater and the history of the theater, and they really make you feel a part of the process—then he gave me a bucket and a sponge, and I scrubbed the floor of the balcony for about a year. They create an atmosphere where everybody feels like you're not just restoring a theater, you're restoring a bygone form of American democracy. I kid you not, these are the speeches I've heard. It could not be more Capra-esque."
After hearing of the Jersey Theatre's imperiled state, I talked to Mr. Egan, who was good enough to recount to me the history of the Friends of Loew's. The group's origins go back to 1987 when the theater, which had been closed since August of the previous year, was slated to be torn down. The owners at Hartz Mountain Industries eventually concluded that demolition would cost more than the potential profit, leading the city to finally buy it from them for $325,000 in 1993. At this point the theater's deterioration was well underway. The state of New Jersey historic trust awarded a grant of roughly $1M to FoL for its restoration, matched by the city—which was enough to fix the roof and boilers, but not to open the auditorium. (For point of comparison, the theater cost $2M to build in 1929, approximately $27M in 2014 dollars.) At this point the FoL became what Egan described as a "volunteer construction company, because we had absolutely no other card to play," adopting the elbow-grease model described above and subsisting despite the city's general indifference and occasional hostility, which involved withholding funding and periodic quibbles over the lease. The Jersey Theatre re-opened in 2001 for special film screenings, and despite great adversity it has subsequently gone on to host live concerts, community events, film and music video shoots—even a 2013 mayoral debate between Fulop and incumbent Jerramiah Healy!
Healy comes off as the bad guy in the Jersey Journal account of the debate, threatening to cut taxpayer funding to the Jersey Theatre while Fulop calls it an "asset to the city" with potential to be a "cultural hub." ("We've been saying that since 1987," Egan adds at the end of the article.) After spending eight years as the opposition City Councilman from Ward E, the 37-year-old Fulop, a former U.S. Marine and Goldman Sachs employee, beat Healy to become the 49th Mayor of Jersey City. And now he's showing what he meant by "asset."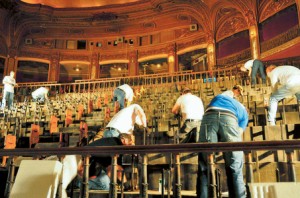 Which brings us to the present situation. In the proposed RfP, the only concession made to the FoL, who have been unwaveringly dedicated to the theater for so many years, and who have poured countless volunteer hours into its restoration, is a guarantee of twenty dates a year to hold events. Says Egan: "When we asked the Mayor when the dates we be, he said 'I'm not gonna hamstring any new operator of the theater.' The Friends of Loew's purpose mission isn't just to put on programs, but to maintain and operate the place as a multi-use arts center, and like any other nonprofits arts center, we rely on all of this for our operations. It doesn't mean anything to have twenty nights a year if we don't have the means to pay for them. It's a meaningless offer."
I take all of this quite personally. I first made the PATH train journey to the Jersey Loew's in spring of 2006, after having wondered at their ads in local weeklies for some time. The movie I saw was Cecil B. DeMille's The Ten Commandments—about as perfect a film as you could hope to experience in such an opulent setting. Through the years I've gone back as often as possible, and it's been heartening to see how the crowds have grown steadily over time. Today you actually have to make haste to get a good seat, and arrive early to wander the lobby and gawp at the tawdry luxury. It feels good being in that building, among people who have pride in the fact that they've made the night happen, and everyone shares in the sense of participating in something unequivocally special. I'm always excited to share the place with people I care about, to get horrible hot dogs next door before and drink at the Journal Square Pub after. And they play good movies! My most recent visit was to see James Whale's The Bride of Frankenstein a few days before Halloween. After the show, my companion and I wandered over to get dinner in Jersey City's Little India, which had been set up for the annual Navrati Festival. On the way out, we happened to wander into a speech by Mayor Fulop. The scuttlebutt that he is awkwardly cast as a man of the people is very true.
The other Wonder Theatres have also been active of late. The 175th Street Theater never closed down, in fact—back when I was living in Washington Heights, it was the domain of Frederick J. "Reverend Ike" Eikerenkoetter II and his United Church Science of Living Institute. Though his flock remains, Rev. Ike has passed on, and his home, now known as the United Palace Theatre, has become a concert venue, even returning to showing films last November with a screening of Casablanca. (The United is not equipped with 35mm projection facilities, unlike the Jersey Theatre, which is even eying 70mm.) The 1977 George C. Scott vehicle Islands in the Stream was the swansong of the Kings Theatre, which stands on 1027 Flatbush Avenue in Brooklyn. Designed, like the Jersey, by the architectural firm of Rapp & Rapp, in much the same Rococo pastiche style, the Kings is slated to return to operation in 2015 after a $70M restoration paid for by the ACE Theatrical Group, LLC of Houston, Texas.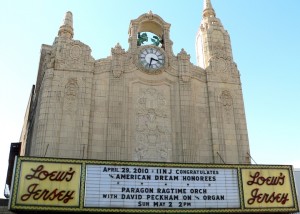 What has happened with the 175th/United and the Kings is altogether good—better to put movie palaces to use than let them lie fallow. Yet for all these years the Jersey Loew's has been showing movies, thanks to the loving work of people who have scraped encrusted black gum off the bottom of seats and primed and painted and lathed and plastered and knocked down walls and put in long hours doing cruddy work because they wanted to participate in something unique and worthwhile, with no prospect of reward. (Here are some illustrative photographs of their progress.) After all of that selfless labor, if the theater is effectively taken out of the hands of the FoL it will be tantamount to a crime.
Mayor Fulop perhaps aspires to see Jersey City become the next "sixth borough," a destination for commuters spiraling ever further out from Manhattan, acquiring the cachet of a nouveau Hoboken. (A town in which beloved nightspot Maxwell's was priced out for a fucking "family restaurant specializing in thin-crust artisanal pizza" last year.) A for-profit owner might furnish the Jersey Theater with a new carpet and a liquor license and more frequent concerts and restore gilding to corners of the ceiling that amateur restorationists don't have the wherewithal to reach. But the Friends of Loew's certainly didn't need $70M to come as far as they have, and the new tenants would be conveniently piggybacking off their predecessor's labor of love. Should it come to that, the Jersey Theatre won't feel the same, and it won't be beautiful anymore. It's not the building alone that's the asset–it's the people who have helped to bring it back.
Those looking for more information on the Friends of Loew's are encouraged to write to loewsjersey@gmail.com.
Mayor Steven Fulop is one Twitter as @StevenFulop.
*            *            *
The other item of note is that this column, along with the rest of the remaining columns on the SundanceNOW blog, has been handed its own eviction notice.
As of this week the SundanceNOW blog will cease to publish in its present form, leaving me to shut off the lights on my way out the door. This will be the last installment of Bombast at SundanceNOW, although it's not impossible to imagine the column finding safe haven in another corner of the Internet. For those who are interested in further weekly verbiage, next week I will return to a weekly DVD and rep column at Film Comment.com, the first three installments of which have been devoted to Alain Robbe-Grillet's Trans-Europ-Express, Blake Edwards's The Carey Treatment, and the double-bill of 1990's Darkman and 1994's The Shadow.
Throughout Bombast's two-and-half year run, I've had the happy connivance of two editors and friends, Jeff Reichert (#1-43) and Eric Hynes (#44-Present), who've done what good editors ought to do—ferret out suspect reasoning and wobbly grammar, and otherwise let me alone. I therefore must take full responsibility for all of the bad bits, and some of the good bits too. This space has proven an ideal outlet in which to write about precisely what happened to be interesting me at a given moment rather than what editorial dictum demanded that I be interested in; for kvetching about the state of criticism, sniping at the culprits, and trying to offer the best alternative that I could come up with. It's been, moreover, an honor to appear alongside Michael Atkinson, Anthony Kaufman, and Michael Koresky, among other contributors past and present.
In closing up shop, I will follow the lead of Mr. Koresky, whose Here & Now & Then column ran out of years before the SundanceNOW blog ran out of time, and provide links—either to pieces that received the greatest response, or that I think deserved a greater response than was received. The reader will note that the selections from the column's first year are fairly scarce. That is because I don't like these columns very much, for reasons beyond the mere horror of re-reading one's self that I touch on in one of my better early outings.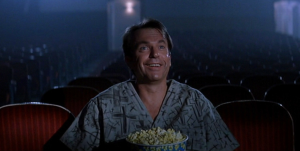 Today they look like jottings rather than standalone pieces, dashed-off afterthoughts to a busy working week, undertaken with the assumption that no one would read them anyways—not that I'd have had any idea if that was actually the case. I didn't actively post a single thing that I wrote on social media until late in 2012, even though the column, initially called The Classical, was begun in summer of 2011. I'd jumped on the opportunity to pick up an extra steady paycheck as I was finally launching myself as a full-time freelance critic, a space to goof off in between "real" jobs—that is, print assignments. At this point I still believed that self-promotion was unseemly, and that if I diligently pursued my craft to the best of my abilities, just rewards would come my way. Really! I actually believed that.
Through the run of the column, you can trace my slow-dawning realization that the life of a workaday critic that I'd been preparing myself for was no longer an option, at least not in the form that I'd envisioned it, and that I was not a special exception immune to the insidious forces far larger than myself that were at work, spoiling far more than my own petty ambitions. Revisiting my inaugural column, I was already referring to the question of "What the Internet Hath Wrought?", and more than anything else the search for an answer to this question provides Bombast's throughline. I still don't know the answer, precisely, but the column truly took shape as certain other outlets became closed off, and in time Bombast became as much my real job as anything I wrote elsewhere, maybe more. It went from a furtive bit of moonlighting to my favorite gig, and I hope the pleasure hasn't been entirely my own.
Bombast #128- On Paul W.S. Anderson's Pompeii
Bombast #127- On Phil Lord and Chris Miller's LEGO Movie
Bombast #126- On Michael Snow at the Philadelphia Museum of Art
Bombast #125- Notes on a January Marathon
Bombast #124- On Open Letters, Armond Whites, Woody and Kells
Bombast #122- On Martin Scorsese's The Wolf of Wall Street
Bombast #121- On Jeannot Szwarc's Santa Claus: The Movie
Bombast #119- On the Coen Brothers' Inside Llewyn Davis
Bombast #118- The Complete Amateur Filmmaker
Bombast #117- On Wes Anderson's Rushmore and Alexander Payne's Election
Bombast #115- On Abel Ferrara's Dangerous Game
Bombast #114- On H.P. Lovecraft and John Carpenter's In the Mouth of Madness
Bombast #112- On Claire Denis' Trouble Every Day
Bombast #111- On Arthur Ripley's The Chase, and noir as Postwar trauma
Bombast #110- On Larry Clark's Kids
Bombast #109- On Slow Criticism, DIY Cis Bro Stuff
Bombast #108- On Alfred Hitchcock's Frenzy
Bombast #107- On the MTV Awards and Maximizing Traffic
Bombast #105- Once Upon a Time in Hong Kong
Bombast #104- 25 SITUATIONS ONLY FILM PPL CAN UNDERSTAND
Bombast #103- On 'PUNK: Chaos to Couture' and Paul McCarthy 'W.S.'
Bombast #102- On Bob Saget's Dirty Work
Bombast #99- On Elizabeth Hartman, Parts One and Two
Bombast #97- On Len Cella's Moron Movies
Bombast #96- On Vulgar Auteurism
Bombast #95- Girls vs. Boys feat. Violet Lucca
Bombast #93- On Delmer Daves' Pride of the Marines
Bombast #91- On Sam Peckinpah's Major Dundee
Bombast #89- Terrence Malick Interview
Bombast #88- On Jerry Lewis Live
Bombast #87- On Reverse Shot's 10th Anniversary
Bombast #83- On Romantic Fatalism
Bombast #81- On Hubert Cornfeld's The Night of the Following Day
Bombast #79- On the Media Aggregation Economy
Bombast #78- On George Bellows and Painting on Film
Bombast #76- On James B. Harris' Cop
Bombast #75- On Christianity without Christ at the Arthouse
Bombast #72- On Helen Morgan
Bombast #71- On Katheryn Bigelow's Zero Dark Thirty
Bombast #67- On Robert Aldrich's Twilight's Last Gleaming
Bombast #65- On Edgar G. Ulmer's The Cavern
Bombast #64- On Playing Against Racial Type
Bombast #62- On the Cultural Vegetables Theory
Bombast #61- On Emile Meyer
Bombast #33- On the MoMA Gramercy
Bombast #30- On the 24-Hour Cultural News Cycle
The Classical #18- On Proper Taste
The Classical #13- On Robert Mulligan's The Nickel Ride, and Blue-Collar "Co-opting"
The Classical #9- On the Worst American Film Critic
The Classical #4- On Comments Sections Rabble
The Classical #2- On John Frankenheimer's The Iceman Cometh, and Movies as a Drunk's Medium
The Classical #1- On Rupert Wyatt's Rise of the Planet of the Apes and Richard Fleischer's The Last Run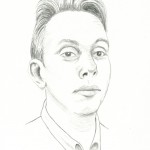 Nick Pinkerton is a regular contributor to Sight & Sound magazine and sundry other publications. He lives in Brooklyn, NY. Follow Nick on Twitter @NickPinkerton.