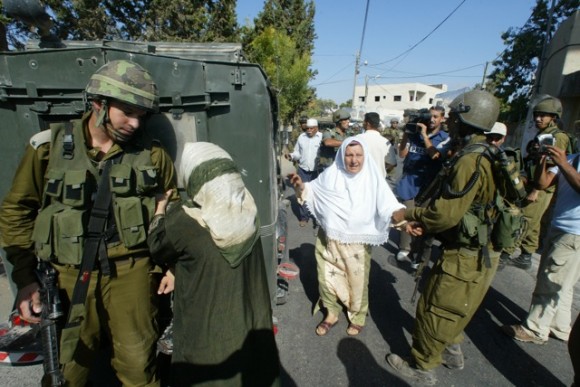 Subjective Shots: New Takes on the Palestinian/Israeli Conflict
Groups of unarmed civilians, carrying flags and shouting chants, face a heavily armed flank of soldiers. The militia moves forward, guns begin to fire, and the people flee, fearing for their lives, as peaceful protest gives way to violent crackdown.
From Eisenstein to Occupy, the images are familiar. But in the new film 5 Broken Cameras, which has won prizes at festivals worldwide, and which opens at New York's Film Forum today, such scenes of oppression are revelatory in their intimacy. Dozens of docs have chronicled the intractable madness of the Palestinian/Israeli conflict, but 5 Broken Cameras may be the most urgent and heartbreaking.
Made by Emad Burnat, a Palestinian farmer who got his first video camera to document the life of his newborn son, 5 Broken Cameras follows the plight of the residents of Bil'in, Burnat's occupied West Bank hometown.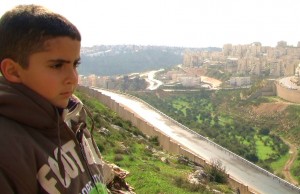 Protesting against the construction of an Israeli "separation barrier," which threatens their land and uproots their olive trees, as well as the encroachment of Israeli settlements close to their homes, Burnat and his neighbors, increasingly come into conflict with the Israeli Defense Forces (IDF) and the settlers they're sworn to protect. "It's an endless cycle," notes Burnat in voice-over, referring to these skirmishes. That's putting it mildly; the documentary displays a seemingly fruitless circle of protest and defeat, resistance and violent repression.
As in Budrus, a 2010 look at nonviolent resistance in Palestine, these clashes provide harrowing dramatic moments. But unlike Budrus or other enraging docs about the plight of Palestine, 5 Broken Cameras is far more personal. We see the filmmaker's brothers dragged off by soldiers, his friends brutally shot, and hear his youngest son coughing from a tear gas grenade. All of these scenes are filtered through Burnat's highly personal and subjective camera lens.
A personal documentary with a reflective first-person narration isn't the most original of formats, but in 5 Broken Cameras, the point of view has an essential function: To align the viewer with a Palestinian perspective. When Burnat gets threatened ("If he films, I'll break his bones!," cries one bullying Israeli settler) or when his camera get knocked around, obstructed, and even shot, we experience these acts as if we were there, as in a first-person shooter video game, except that instead of firing weapons, we're just receiving blows.
This technique was also used to disturbing effect in the opening minutes of  2010's This is My Land… Hebron, which depicts a vicious Israeli settler smacking a camera down and calling a Palestinian woman "whore" repeatedly. It's an excruciating scene, made all the more appalling because the insults are directed straight at the viewer. While Palestinians have historically and consistently been denied personhood, statehood and subjectivity, the first-person camera provides a privileged position rarely offered by conventional media.
In 5 Broken Cameras—so titled for the several cameras that Burnat employs, each one as battered as the last—the medium becomes the message. As his cameras weather gun fire, car accidents and other abuses, the footage from these failing machines is marred by digital noise, flickers, dropped pixels and audio static, reflecting the literal fracturing and degradation of Burnat's world.
The cameras also protect him like a shield; a few bullets strike them instead of his head. More important is the metaphorical protection they offer him as a witness to atrocity. When soldiers end up at Burnat's front door and tell him to stop videotaping, he keeps the camera propped up, continuing to record as if it was his only own defense.
Burnat structures the film around the birth and first five years of his young son's life giving the film an extra dose of intimacy. It's hard not to feel for a kid whose first words are "wall" "cartridge" and "army," and who asks his Dad, with a toddler's sincerity, "Why don't you kill the solders with a knife?" Ultimately, it's the experience of viewing through Burnat's eyes that makes Five Broken Cameras so memorable. Audiences have become inured to images of strife from Israel, so finding new ways to document the conflict may be just as important as chronicling it.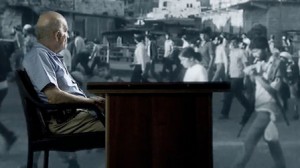 The Law in These Parts, which played at Sundance and is likely to reach U.S. theaters this fall, provides another uniquely compelling view of the region's indignities. In many ways, it serves as an essential counterpoint to 5 Broken Cameras, offering a more clinical and thorough explanation of the ways in which the Israeli state justifies its repressive actions against Burnat and the millions of other people living in the Occupied Territories.
Directed by Israeli filmmaker Ra'anan Alexandrowicz, whose previous docs Martin and The Inner Tour are just as complex, "The Law in These Parts" effectively puts former Israeli military justices and prosecutors on trial for the way they've colluded with the IDF to sustain an unjust society and keep Palestinians under control.
Alexandrowicz places his interviewees literally atop a platform and interrogates them about the way in which the State of Israel has set the ground-rules for legalized oppression (from circumventing the Geneva Convention and using inhumane and extreme interrogation techniques, to finding new ways to claim Palestinian land for "security" reasons).
The interviewees are unbending as they are blunt, saying things like "security comes before human rights." Or as one judge says, "Order and justice don't always go hand in hand."
5 Broken Cameras is heated; The Law in These Parts is dispassionate. But like Burnat's film, it is also self-reflexively questions its own truth-value. Alexandrowicz places his subjects in an artificial set and presents himself, in silhouette, asking questions about the definition of documentary and history.
As with 5 Broken Cameras, Law's formal conceit is crucial. When everything about Israel and Palestine is distilled through highly biased perspectives, it's necessary to question what we're seeing and what's being said. Alexandrowicz, by including himself, also suggests his own culpability as an Israeli citizen; as he himself admits, one man's freedom is another man's repression.
Anthony Kaufman has written about films and the film industry for The New York Times, The Los Angeles Times, The Chicago Tribune, The Village Voice, and Slate. He is currently a regular contributor to Variety, The Wall Street Journal Online, Filmmaker Magazine, The Utne Reader, and writes the ReelPolitik blog for Indiewire.com.