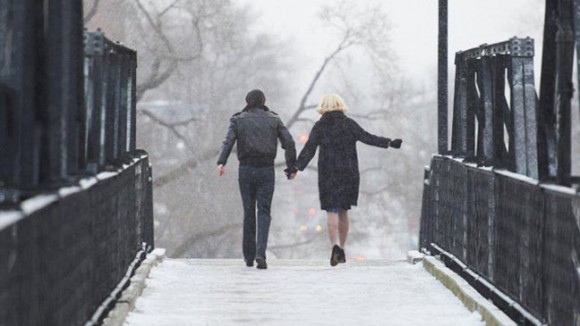 In a coincidence that can only happen at a film festival, two of the best documentaries at this year's Toronto International Film Festival both concerned questions of history, and how we remember and represent it. While the two movies, Stories We Tell and The Act of Killing, couldn't be more different in tone, style or subject matter—the is former about a Canadian family, and the latter about mass murder in Indonesia—these stunning nonfictions play with similar mixed modes, re-staging reality as a way of capturing its essence.
In Stories We Tell, Sarah Polley trains multiple cameras on her family to tease out truths about her late mother, particularly whether or not her birth father is different from the man, Michael Polley, who raised her. The film features Super-8mm footage of her mom—an actress who was, by all accounts, a lively, vivacious, life-of-the-party-type—dancing around the house, playing on the beach, mixing with friends at bars and restaurants. The old scenes not only add a visual richness to the film, but they heighten the nostalgic mood—in that familiar way that old home movies always do.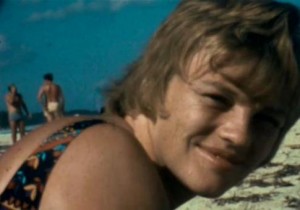 However, much of this footage (spoiler alert!) was totally fabricated, with actors posing as Polley's mother, father, and other characters from her parents' past. So seamless is the material that several audience members who watched Stories We Tell never realized the footage was staged. So powerful is the convention of personal home movies, it seems, that audiences take them for granted as real. In a documentary that purports to investigate the way history is refracted and remembered in different ways, Polley's stylistic flourish is more than just a gimmick. The film directly tackles the assumption that Super-8mm celluloid is a valid expression of the past, just as it addresses the notion that one person's memories of an event could be more valid than an other's. Indeed, one of the film's main tensions revolves around the fact that one family member believes that Polley's mother's story is exclusively his own to tell. But the past, Polley suggests, is to be contested, debated and never be taken at face value.
In The Act of Killing, the past is also a highly subjective space—one that takes on greater dimension and meaning through the act of its reconstruction and re-filming. If Stories We Tell recreates memory in Super-8mm, Josh Oppenheimer and Christine Cynn evoke it in an epic Digital Video collaboration with their film's subjects. But rather than a family affair, these subjects are boastful mass murderers who were responsible for the killing of more than a million alleged Communists at the behest of President General Suharto in Indonesia from 1965 to 1966.
Now old men who declare themselves to be guilt-free, and are still heralded as national heroes, the killers are only too happy to mythologize their violent escapades on the big screen. Yet when the killers debate whether or not the movie they're making will show that they were, in fact, crueler than the Communists—the converse of the official governmental story—the truth of the past becomes up for grabs.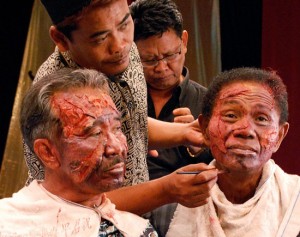 But something strange happens as the camera rolls. The film's main protagonist, a former death squad leader named Anwar Congo, admits that he has nightmares, and these gory scenes of decapitation and haunting demons begin to populate their production. Other restaged scenes of atrocity appear to take a toll on the participants. In several particularly poignant moments that blur the line between truth and fiction, child actors who've been asked to portray panic and fear, can't calm down even after the crew yells "cut." "Your acting was great, but stop crying," one of the men says to a little girl. She can't.
Like Stories We Tell, The Act of Killing arrives at painful truths—tremendously horrendous truths at that—through fictive recreations. Watching the sequences that the Indonesian gangsters produce—from strange, noir-ish scenes of interrogation to those surrealistic nightmares—it's hard to believe that anyone would take them seriously. But memory works in mysterious ways, and through a process of prodding and reevaluation, Anwar Congo goes from a happy dancing man (helped along by drugs and alcohol), to a person who can no longer repress the demons he has long kept under wraps.
Psychoanalysts would probably have a field day with these movies, as they restage memories as paths to personal reckoning and reconciliation. And for documentary aficionados, there's another just as noteworthy aspect: that truths can just as easily come out of falsities as facts.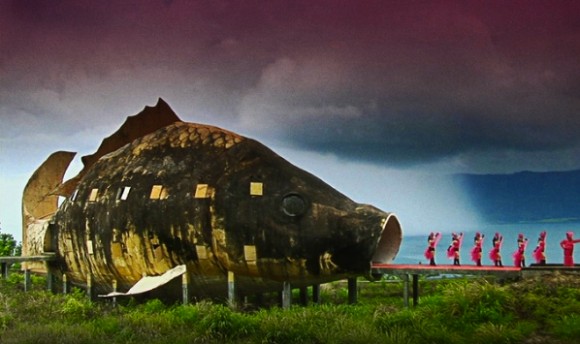 Anthony Kaufman has written about films and the film industry for The New York Times, The Los Angeles Times, The Chicago Tribune, The Village Voice, and Slate. He is currently a regular contributor to Variety, The Wall Street Journal Online, Filmmaker Magazine, The Utne Reader, and writes the ReelPolitik blog for Indiewire.com.