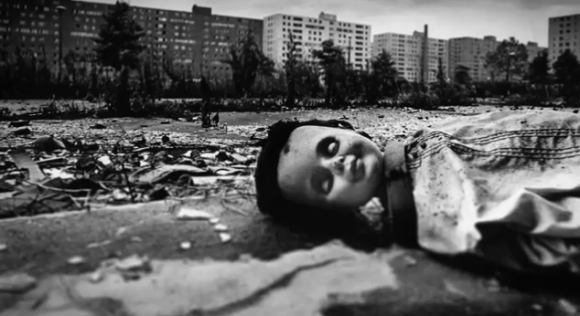 "It's a slow motion Katrina."
By coincidence, this exact statement is spoken in two different recent documentaries, Chad Freidrichs's The Pruitt-Igoe Myth (2011) and British director Julien Temple's Requiem for Detroit? (2010), both playing at the nonfiction series "Sometimes Cites" at New York's Anthology Film Archives from June 14-17.
The Katrina reference is potent, bringing to mind both the destruction of an American city and the displacement and repression of its poor populations. These films argue that, like the storms and government mismanagement that ruined the lives of New Orleans' lower-class communities, there's a larger tragedy that's been unfolding across America's mid-sized cities for the last several decades. Its effects have been just as damaging as a hurricane, leaving urban wastelands and widespread poverty in its wake.
Anthology Film Archives' film programmer Jed Rapfogel, who originally hails from St. Louis, says he came up with the "Sometimes Cities" series because of a particular love for smaller American cities, and out of the feeling that "New York today is increasingly dominated by wealth and luxury, and detached from the economic realities facing most other cities."
Rapfogel was also inspired to put together the program after seeing Tom Jarmusch's Sometimes City, a ragged punk-style portrait of a dying Cleveland (also screening), as well as the work of Tony Buba, which documents his decimated former mill town, Braddock, Pennsylvania (a selection of which screened at Anthology last week), and a recent spate of documentaries about America's most beleaguered city, Detroit (Temple's Requiem for Detroit? is one of a dozen films in the series).
One of the year's best documentaries, The Pruitt-Igoe Myth (recently released on DVD) focuses on a massive 1950s housing experiment in St. Louis, Missouri that went terribly awry in its later years. Freidrichs uses the story of Pruitt-Igoe to provide a lucid example of the circumstances that have led to the collapse of some of the country's once great metropolises.
The film charts the rise and fall of Pruitt-Igoe from a utopian, yet racially segregated modernist housing structure to a crime-riddled badlands, arrayed with broken windows and elevators stinking of piss. The myth of Pruitt-Igoe, according to the film, is that such housing developments are inherently bad, that densely populated apartment complexes all ultimately lead to slums. But the film powerfully suggests that other factors are to blame: post-industrial economic changes that moved businesses outside of the city, as well as reprehensible and racist government housing policies that disempowered the already disenfranchised and spurred white flight and suburban sprawl.
What makes the film remarkable, in spite of its unappealing-sounding title, is how it elicits fresh outrage and empathy for what went down at Pruitt-Igoe nearly half a decade ago. Freidrichs creates something uncommonly affecting through deeply resonant archival images (a broken doll splayed amid the rubble of the projects), poignant news clips (a black man breaks down in tears on camera because he can't find a job to support his family), and intimate interviews with its former residents. While one former Pruitt resident fondly recalls the smell of pies cooking and the sounds of kids playing—the scents and sounds of a close-knit community—another man recounts how it all went to crap, watching his brother being murdered right in front of his eyes in the same hallways.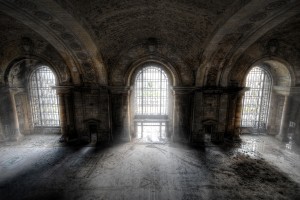 Like Freidrichs, Julien Temple finds in the story of a Midwestern city's decline a deeply racist undercurrent, tracing "a policy of virtual apartheid that would tear apart the fabric of the city" even from its earliest days. And as with The Pruitt-Igoe Myth, Requiem for Detroit? also chronicles the withdrawal of the urban tax base, when upper and middle-class white populations moved to the suburbs, leaving the inner-city devoid of revenue and services. Today, the film reveals, more than 30% of Detroit's population is unemployed.
Temple devises a bold visual counterpoint to Detroit's sad tale of WWII boom and post-industrial bust by literally projecting archival images of the city's jazz-age flourishes and 1950s automobile heyday onto its current dilapidated buildings. It's a vivid display of the cruel irony that has befallen the Motor City.
The art of sardonic juxtaposition seems to fit naturally with documentaries about the decline of the American city. In 1989, Michael Moore would christen the most famous doc about urban blight, Roger and Me, focusing on Detroit neighbor, Flint, Michigan, via a series of sharply satirical sequences. In one of that film's most pointed passages, Moore tracks past rows and rows of bombed-out-looking houses while the Beach Boys' "Wouldn't It Be Nice?" plays on the soundtrack.
Compared with the futurist cinematic celebrations of the modern city, most famously Walter Ruttmann's Berlin, Symphony of a City (1927) and Dziga Vertov's Man with a Movie Camera (1929), which glorified workers, machines, vehicles and industry—often in furiously cut montages—these new "post-city" documentaries prefer the languorous tracking shots of crumbling homes and fallen industries.
That formal device can be seen in docs such as Florent Tillon's Detroit Wild City (2010), Rachel Grady and Heidi Ewing's Detropia (2012), Malik Bendjelloul's Searching for Sugar Man (2012) and Tom Putnam and Brenna Sanchez's Burn: One Year on the Front Lines of the Battle to Save Detroit. Often filled with a kind of post-apocalyptic lyricism, these films share a fascination with the beauty of detritus and ruin, perhaps more akin to post-WWII Italian Neorealist classics Rome: Open City and Germany Year Zero.
A similar attraction appears to be luring some individuals back to places like Detroit. "The apocalyptic nature of these ruins is what attracts young people," as one new resident says in Detroit Wild City. "What would it look like if there were no humans on earth, what would it look like if all the industry vanished. If you want an example of it, you can come here and really see it." And this, as some of these docs hint, may give us some clues as to how we are going to live and how we may want to live in America's post-cities. As one elderly woman says, without cynicism, towards the end of Requiem for Detroit?, "You can look at Detroit and see disaster, depopulation, disinvestment. Or you can look at it and say, that's the future."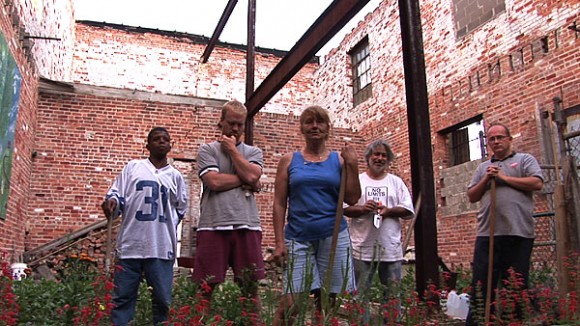 Anthony Kaufman has written about films and the film industry for The New York Times, The Los Angeles Times, The Chicago Tribune, The Village Voice, and Slate. He is currently a regular contributor to Variety, The Wall Street Journal Online, Filmmaker Magazine, The Utne Reader, and writes the ReelPolitik blog for Indiewire.com.