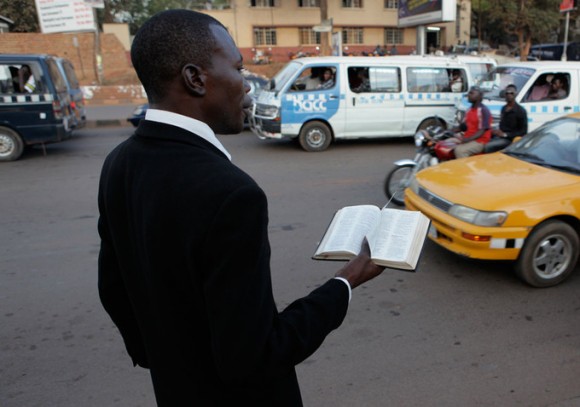 The usual atrocities of man against man, and man against nature, are on display in the films of the 24th annual Human Rights Watch International Film Festival, which closes this weekend in New York City before touring the country. Some notable works include Joshua Oppenheimer's surreal and chilling inquiry into Indonesian mass murder, The Act of Killing, which we've covered before, Marc Wiese's somber Camp 14 ­ Total Control Zone, an intimate portrait of a man raised in a North Korean labor camp, and Raoul Peck's Fatal Assistance, a razor-sharp expose about the mishandling of billions of dollars of aid to Haiti after the country's 2010 devastating earthquake (never have so many well-intentioned Western white people, including Bill Clinton, looked so ineffective).
But in the wake of last year's Human Rights Watch fest standout Call Me Kuchu—the story of Ugandan gay activist David Kato, which is now playing in New York and opens in L.A. this Friday, a vital new wave of films have focused specifically on the scourges of homophobia and HIV in both African and African-American LGBT communities.
Though it's not showing at Human Rights Watch, Roger Ross Williams's God Loves Uganda, a Sundance premiere that's also playing at several other fests this month, squarely fits into the movement. Something like Jesus Camp meets Call Me Kuchu, examines the American evangelical community's mission to demonize homosexuality in the African nation. Not unlike the naive Western helpers in Peck's Haitian doc, God Loves Uganda reveals the imperialist nature of foreign missionaries seeking to save post-colonial people according to their own Western notions—and the dangerous effects they've had on the local population. In the process of converting young Ugandans in the ways of Christianity, these missionaries have cultivated an institutionalized system of hate—a system that arguably led to the murdering of Kato.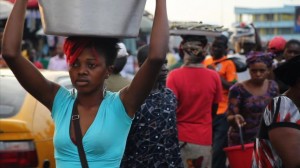 Much as Call Me Kuchu offered a personal look at the lives of LGBT people in Africa, Born This Way offers a similarly affectionate portrait of people in Cameroon, where homosexuality is punishable by up to five years in prison. While the film lacks the gravity and power of Kuchu, it also introduces us to a collection of sympathetic LGBT folks, coming-of-age and coming out in a society that is dominated by a repressive State apparatus and the Catholic Church. One of the film's more poignant moments shows a lesbian confessing her true identity to the Mother Superior who raised her in a convent.
The role Christianity plays in the lives of gays and lesbians of color is also powerfully conveyed in two films set in the U.S., Yoruba Richen's strong polemic The New Black and Lisa Biagiotti's poetic deepsouth.
Early on, The New Black equates gay rights with the broader struggles of the civil rights movement, with Sharon Lettman-Hicks, chief executive of the National Black Justice Coalition, forcefully suggesting that America's same-sex marriage fight is "the unfinished business of black people trying to be free." Set during the run-up to Maryland's gay marriage vote in 2012, the film portrays a black community deeply divided along religious lines, with the traditional Black Church pitted against a growing multicultural gay rights movement. As Lettman-Hicks proposes, in another great sound-bite, "We're ready to repeal 'Don't Ask, Don't Tell' for the black community."
But as the film progresses, the opposing sides shift and mutate; as President Obama "evolves" on the issue, so, too, do a handful of prominent black pastors and entertainers. And in one touching scene, which recalls Born This Way, we see a more intimate depiction of the increasing tolerance of same-sex marriage within the black community when a lesbian activist confronts her deeply Christian foster mother, who, surprisingly and unconditionally, welcomes her gay identity.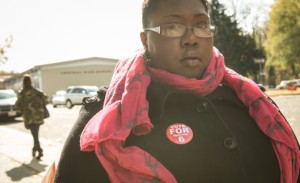 Echoing God Loves Uganda, The New Black also explores whether the predominately white Religious Right has influenced black leaders on these issues. But the film quickly dispels such conspiracy theories, making clear that black preachers believed in the immorality of homosexuality long before Focus on the Family got involved.
Given the charismatic, spiritual and cultural power of these black leaders, preaching the gospel of one-man, one-woman marriage across Maryland and elsewhere, it's a shock that gay activists have any foothold on the issue whatsoever. Like so many similarly plotted docs, the narrative energy of the suspenseful us vs. them Election Day showdown in The New Black comes at the expense of the complexities of race, religion and gender it initially sets up.
Lisa Biagiotti's deepsouth is a more evocative exploration of gay black Americans and those who genuinely want to help them. The film sensitively and skillfully interweaves three main stories: Joshua Alexander, a black 20-something HIV positive Mississippi man, struggles to overcome a tragic past and forge a more hopeful future with an unconventional family; Kathie Hiers, the strident, strong-minded white CEO of AIDS Alabama, straight-talks her way through State Capitols and policy conferences; and two dedicated Louisiana black women Monica Johnson and Tamela King fight a hard-won ground game at their HIV retreat, shrewdly addressing both poverty and HIV as interrelated problems.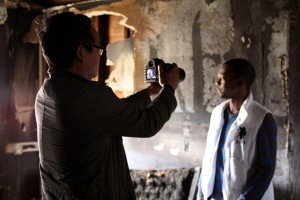 deepsouth takes up many of the themes seen in The New Black, from homophobia in the Black church—the "bible belt hypocrisy," as Joshua calls it—to a culture of denial in the wider African-American community. Exhibiting a sophisticated historical knowledge, it also more directly links slavery and racism with poverty and the current lack of adequate healthcare Thanks to Joe Lindquist's well-paced editing and Duy Linh Tu's mix of verité and elegiac cinematography—capturing the scorching sun, marshes and lush greenery of Alabama, Louisiana and Mississippi—deepsouth transcends straight-forward advocacy to become an affecting and resonant portrait of an AIDS crisis that hits closer to home than the African-set God Loves Uganda or Born This Way. When Hiers, in a brief moment of pause from her tireless travel schedule, says, "I worry about the South," you will, too.
Anthony Kaufman has written about films and the film industry for The New York Times, The Los Angeles Times, The Chicago Tribune, The Village Voice, and Slate. He is currently a regular contributor to Variety, The Wall Street Journal Online, Filmmaker Magazine, The Utne Reader, and writes the ReelPolitik blog for Indiewire.com.