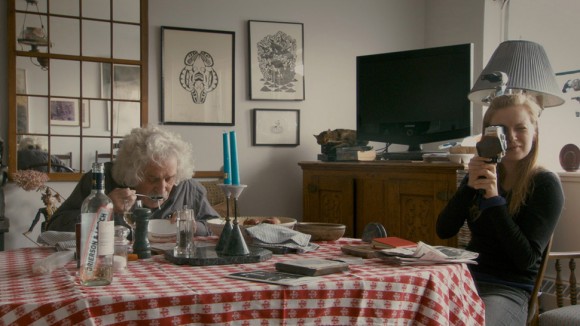 The last year was a very good one for documentary films. By many accounts, 2013 showed how docs have gotten better and more popular, gaining greater legitimacy in the culture at large, and sparking both discussion and political action. But like any art form or industry—or person for that matter—there's always room for improvement. Docutopia is always striving to make the doc world better, by highlighting what's good, criticizing what's bad, and generally drawing more attention to the form.
As we move into the New Year, here are 8 things Docutopia would like to see change or take place in 2014. They're not exactly resolutions, which customarily veer toward personal vows to lose weight or exercise more (though some docs could stand to be shorter). Rather, consider this a wish list for 2014: aspirations for creative and commercial excellence for documentary film.
1. The Sundance Film Festival should embrace more formally daring work.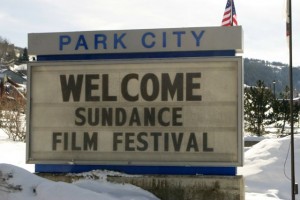 Last year's Sundance documentary competition featured some excellent films, including After Tiller, American Promise and Dirty Wars. But by and large, these were not films best known for their aesthetic accomplishments. We appreciate the observational camera work of Tiller and the moody noir-ish cinematography of Wars, but the majority of Sundance docs emphasize issues over style. Whether Blackfish, Gideon's Army, Citizen Koch or Inequality for All, it's clear that the world's most important American nonfiction prefers social activist docs. This year, with docs on domestic violence, Alzheimer's, Prop 8, Cesar Chavez, America's food industry and higher education, the festival appears to be once again emphasizing subject matter over style. The two aren't mutually exclusive, of course, and perhaps these topics will be approached with the something like the originality of Cutie and the Boxer, the closest the 2013 competition got to a work of formal experimentation. But wouldn't it be great if the festival reserved a handful of slots for bold, game-changing documentaries that push the form further?
2. The Toronto International Film Festival should embrace more formally daring work. 
See 1.
3. The new voting rules for Best Documentary at the Oscars should be rescinded.
Over the last ten years, Oscar winners for Best Documentary have been a diverse bunch. Whereas crowd-pleasers such as March of the Penguins and An Inconvenient Truth won in consecutive years, darker exposés like Taxi to the Dark Side and Inside Job have also triumphed, while winners such as the idiosyncratic portraits Man on Wire and Searching for Sugar Man hardly fit into any preconceived box. If this were any other year, 2013's most critically acclaimed documentary, Joshua Oppenheimer's challenging and somber The Act of Killing, could very well win this year's most coveted film industry prize. But because the entire Academy branch will vote for this year's Best Documentary for the first time, it's a whole new ball game. Let's face it: a slow-moving, morally complicated two-hour doc about restaging mass genocide may have a harder time of it. Bring back the doc branch's primacy. They knew what they were doing.
4. Foreign language docs should receive greater U.S. support.
Foreign films have a hard enough time in the U.S. marketplace. Consider how much more difficult it is to distribute documentaries with subtitles. But every year, some of the best docs come from overseas. Recent Docutopia favorites such as Sofia's Last Ambulance and The Machine Which Makes Everything Disappear were barely seen on U.S. screens. IDFA, the International Documentary Film Festival Amsterdam, is the world's foremost nonfiction showcase, but even wonderful former winners like Last Train Home and Planet of Snail that received a theatrical release were still largely ignored on these shores. You can blame it on the provincialism of American audiences or the fact that Netflix and cable companies shy away from films that require viewers to read. Either way, let's resolve to show foreign-made docs some more love with extensive distribution campaigns and first-weekend attendance.
5. Propagandistic docs should be ignored during the mid-term congressional elections.
I'm loath to experience another election season, even a mid-term one. It's more than probable that political campaigns will use the documentary form to slime their rivals. And with rightwing politicos like Newt Gingrich and Rick Santorum moving into film production, we're likely going to see a whole lot more propaganda from the right. Let's hope these films don't get the press coverage they don't deserve. Not only does the attention highlight these overextended campaign ads and give them free screen time, it furthers a focus on media distortions rather than substantive issues.
6. Michael Moore should announce his next film project.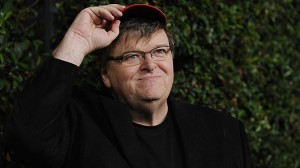 Speaking of propaganda, it's about time Michael Moore announces a new project. It's been nearly 5 years since the filmmaker's Capitalism: A Love Story predated a wave of docs about the global economic collapse. In the past he promised not to make a documentary about Barack Obama because the jury wasn't out yet. But it seems like the President has had more than enough time to prove himself. Will Moore finally set his sights on Obama? If not, the muckraker has plenty of other timely and worthwhile targets to skewer, from the current Congress to privacy issues and the prison industry). Say what you will about his tactics, but every Moore movie is an event, stirring up waves of debate and benefiting other documentaries that follow in its wake.
7. A studio specialty division should get behind a doc in a big way. 
No disrespect to Magnolia Pictures, Sony Pictures Classics, IFC Films or TWC-RaDiUS, which have shrewdly and successfully released a number of documentaries over the last few years, some of them earning nearly $5 million in U.S. ticket sales. But remember the days when docs were earning twice that amount? In 2005, Paramount Classics bullishly released a small doc about dancing kids, Mad Hot Ballroom, which grossed over $8 million. Fine Line rode a three-hour documentary about two kids aspiring to be basketball players, Hoop Dreams, to $7.8 million (and that's in 1994 dollars). With the backing of major distribution companies such as Warner Bros, United Artists and Lionsgate, Michael Moore's movies have become not just high grossers, but more importantly, major cultural phenomenon. In 2004, there probably wasn't a single person in the country who didn't have an opinion about Fahrenheit 9/11. Of course, bigger isn't always better, but we'd like to see companies such as Fox Searchlight and Lionsgate once again throw as much marketing money behind a nonfiction film as a fictional one.
8. Harvard's Sensory Ethnography Lab should make a film everyone wants to see.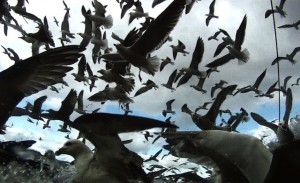 The folks coming out of Harvard's Sensory Ethnography Lab are making some of the most challenging and stimulating nonfiction cinema today, from People's Park to Leviathan. Granted, the films can veer into abstraction for your average movie viewer, but true to the group's name, their works represent a kind of visceral and physically engaging experience that's utterly unique in the contemporary cinema, doc or otherwise. You don't just watch these movies; you feel them. These films deserve to be seen, and seen within the all-encompassing sensory experience of a movie theater. Imagine a 3-D or large-format project from the Lab playing at every Science museum or IMAX screen in the country. Now that would make 2014 a great year for the documentary form.
Anthony Kaufman has written about films and the film industry for The New York Times, The Los Angeles Times, The Chicago Tribune, The Village Voice, and Slate. He is currently a regular contributor to Variety, The Wall Street Journal Online, Filmmaker Magazine, The Utne Reader, and writes the ReelPolitik blog for Indiewire.com.