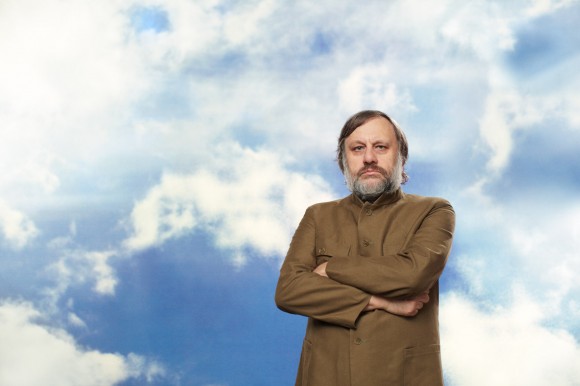 Philosophers don't often become movie stars. But it's easy to see why Slavoj Zizek, the prominent Slovenian Marxist-Lacanian thinker, has become a central figure in several documentaries, from filmed lectures such as Manufacturing Reality and Love Without Mercy to Astra Taylor's portrait Zizek! and her philosophical survey Examined Life, to Sophie Fiennes' The Pervert's Guide to Cinema and now its sequel, The Pervert's Guide to Ideology, opening in theaters this week.
A teddy bear of a man, with deep-set eyes, graying hair, quickly moving hands and rapid-fire speech that evokes an even faster-moving brain, Zizek looks like a typical European philosopher pumped up on amphetamines. He delivers his ideas with a refreshingly brash and confident style, as if any disagreements would be met with a stark and effective put-down. His heavy Slovenian accent—distinct from French or German or Russian—also lends an ineffably European-ness to his language and demeanor. He is not just a Continental philosopher: He is the Continental philosopher for our postmodern era, cut from the same cloth as Marx, Hegel and Walter Benjamin.
His English pronunciation of certain words also happens to be cute. Instead of "film," he says,  "fil-im," and when discussing the work of Martin Scorsese's Taxi Driver, he calls it The Taxi Driver. But it's Zizek's keenly observed, sometimes-wry perspectives on pop culture that make him such a compelling screen presence.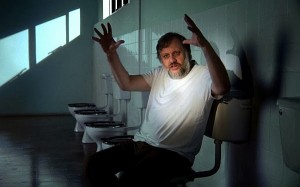 Essentially, The Pervert's Guide to Ideology is a lecture about Marxist and psychoanalytic concepts of ideology. Yet Zizek often couches his theoretical discourse within recognizable mainstream entertainments, excitedly providing the audience with digestible hooks. For instance, he uses The Sound of Music's "Climb Every Mountain" musical number as an expression of not so latent hedonistic desire or that "forgotten masterpiece of the Hollywood Left," John Carpenter's They Live, starring Rowdy Roddy Piper, as an Ur-expression of how ideology works.
Continuing a stylistic gimmick from The Pervert's Guide to Cinema, Fiennes positions Zizek within sets meant to replicate the films he's talking about. For instance, when discussing They Live, he stands in a back alley next to a dumpster, which resembles the location where Roddy Piper battles a friend in a pivotal scene in the film. These sets provide a visual bridge between the movie clips and Zizek's argument, but they also playfully literalize the way a subject may exist within ideological frameworks.
Zizek's riffs on commodities like Coke and Starbucks are also as funny as they are illuminating. "Coke Is It!" becomes an ongoing meditation on the elusive and never quenchable "It" of capitalist desire—with the cruel irony that the more you drink it, the more you get thirsty. The film also includes shrewd linkages between Steven Spielberg's Jaws and Nazi-era concepts of Jews—in which society's greatest and myriad fears are projected onto a single object—and a terrific deconstruction of James Cameron's Titanic, in which the film becomes less about eternal romance than the upper-class's exploitation of the working-class.
Not all of Pervert's Guide to Ideology goes down easy. A critique of capitalism as reflected in the Will Smith movie I Am Legend and an airplane graveyard in the Mojave Desert is not as legible, while his concept of the "Big Other"—as reflected in films such as Brief Encounter and Zabriskie Point—also doesn't come across as cleanly as some of his other points. But let's face it: big philosophical ideas can't always be grasped in 10-minute video snippets.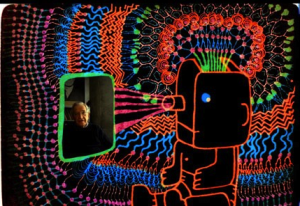 While Zizek represents the iconic contemporary European philosopher—a Marxist psychoanalyst whose ideas can seem opaque and far-fetched—venerable soft-spoken linguist Noam Chomsky is his American alternative, an empirical, analytical philosopher and committed Leftist who has been no less an object of fascination for filmmakers. (Coincidentally, the two philosophical giants recently engaged in an acrimonious war of words, which only seemed to further cement their prominence as icons of opposing modes of thought.) Chomsky also has plenty of movie credits—the Internet Movie Database counts a whopping 129 appearances. He was the focus of Mark Achbar and Peter Wintonick's seminal Manufacturing Consent: Noam Chomsky and the Media (1992) as well as Noam Chomsky: Rebel Without a Pause (2003). And now Chomsky is at the center of Michel Gondry's animated documentary Is the Man Who is Tall Happy?, which will premiere at DOC NYC and have a theatrical release later this month.
But unlike the Zizek films, or previous Chomsky docs, for that matter, Is the Man Who is Tall Happy? is less about Chomsky's theories than about Gondry's interests in memory, subjectivity and representation. If The Pervert's Guide to Ideology attempts to make Zizek's complex ideas graspable, Gondry's film offers no such illuminations, making only passing references to Chomsky's ideas about "psychic continuity," "minimal structural distance" or his breakthrough concept, "generative grammar." (And what likely will come as surprise for Chomsky's followers, Gondry does his best to eschew Chomsky's hardened activist views, glossing over Chomsky's history of political resistance and cutting short a discussion of the unjust treatment of Roma peoples in France with the question, "What makes you happy?")
Rather, the ever-playful Gondry is ultimately interested in using the linguist's theories as a jumping off point to explore notions of representation. While Gondry also asks lots of questions about Chomsky's childhood and his personal life, he constantly acknowledges the film's own making and manipulations. He shoots on a noisy hand-cranked Bolex camera, and his jazzy, freewheeling colorful animations—full of replicating stick figures, oscillating shapes and mechanized objects—evoke Chomsky's epistemological discussions of how we view and make sense of the world around us. Gondry's drawings, then, function similarly to Fiennes's movie-set simulations.
Thus, both Is the Man Who is Tall Happy? and The Pervert's Guide to Ideology boldly attempt to illustrate their subject's perspectives via their formal construction. Whether or not either film consistently or successfully communicates their subject's ideas, each provides a brief and surprisingly entertaining experiential trip into the thick and muddy waters of philosophical thought.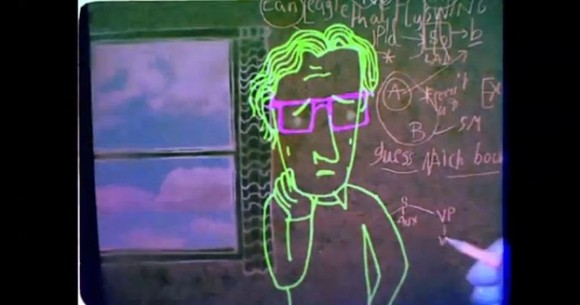 Anthony Kaufman has written about films and the film industry for The New York Times, The Los Angeles Times, The Chicago Tribune, The Village Voice, and Slate. He is currently a regular contributor to Variety, The Wall Street Journal Online, Filmmaker Magazine, The Utne Reader, and writes the ReelPolitik blog for Indiewire.com.