The blaring, blazing whiteness of classical Hollywood films is never more blaringly, blazingly white than when it travels abroad. For those in search of evidence of cinematic orientalism, the thirties provides a bounty, with its Charlie Chans and Fu Manchus and glowing colonialist adventures so earnest and naïve as to verge on self-parody. These films at least make sense as depression-era escapism, offering exotic locales and reliable otherness to distract from the trouble back home. In the forties, American cinema became less obsessed with scrutinizing the exotic East both because the realness of war took threat out of the realm of the mythological (such as the "yellow peril" exploited by the Fu Manchu films and their ilk) and because the home front seemed a more urgent place to seek out drama. However, in the postwar period of the fifties, at a time when the onslaught of television was forcing movies to go bigger, wider, and further, movies were actually being made in far-flung places. The result was a new round of exotic cinema, this time for an ostensibly more enlightened age. Of course, every age presumes it's more enlightened than the previous, bestial one.
By 1952, average weekly movie attendance had dropped to 51 million from an all-time high in 1948 of 90 million, and this necessitated the arrival of such interactive theatrical fare as 3D and Cinerama. In 1953 CinemaScope was introduced by Twentieth Century-Fox with the biblical epic The Robe, and by 1955 it was in full swing, stretching everything from modest romantic comedies to bedazzled musicals to war epics onto canvases of 2.55:1 or 2.35:1. Naysayers such as Fritz Lang—who famously proclaimed the format was only good for snakes and funerals—and Sidney Lumet ("CinemaScope makes no sense until people are fatter than they are taller") had their points, but there's no denying that a character's placement within an elongated frame can be a provocative tool for psychological portraiture. It's an odd quirk of film history that the super wide screen (soon to be industry-standard) would be considered essential for outdoor epics and other films set in exciting locations, as if one needed the extra width to really take in everything. (After all, even a supposedly cramped 1.33:1 frame can seem to display the whole, wide world, depending on where the camera is pointed.) Thus, films focused on place more than character were considered prime 'Scope material, and many new films set in the Far East were filmed this way.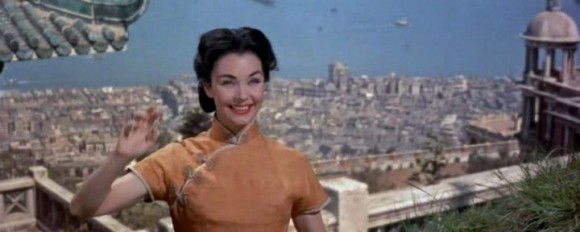 Striking a precarious balance between interior melodrama and travelogue anonymity is Henry King's 1955 weepie Love Is a Many-Splendored Thing. Remembered today more for the luscious treacle that is its title song by Sammy Fain and Paul Francis Webster (which has been recorded by everyone from the Four Aces and Nat King Cole to Ringo Starr), the film fits in well with other soaps of that year (All That Heaven Allows, Picnic, Summertime) in its objectification of its male love interest, here William Holden, shirtless and chest-shaven onscreen and in its original marketing campaign. Yet Love Is a Many-Splendored Thing hails from heftier and more fascinating source material: a highly autobiographical novel by Han Suyin, a Eurasian physician turned writer. Born Kuang-Hu Chou in Xinyang to a Chinese father and a Flemish mother, Han Suyin studied medicine in England in the forties, and during that decade her husband, a Chinese general, died in battle fighting for Chiang Kai-shek during the Chinese Civil War. Soon after this she moved to Hong Kong for work, and it was here, with the Civil War still going strong, that she began a doomed romance with a married Australian man, which inspired A Many-Splendored Thing. (Incidentally, Han Suyin, who died in 2012, hated the idea of a sudser being made from her book, and was on the record as saying she only sold the film rights to get money for an operation for her tubercular daughter.)
The realities of war and an increasingly global community resulted in love stories like Love Is a Many-Splendored Thing; the material offered for American viewers not only the possibility of a florid tearjerker but also the promise of a journey—albeit to a place that was safely a British colony. Lending it some authenticity was the fact that portions of the film were actually shot on location in Hong Kong—though it's easy to see where that ends and a Fox backlot picks up. Curtailing the credibility of the project just a bit was the fact that Tulsa's own Jennifer Jones was cast as Han Suyin, clearly emphasizing the Eur rather than the –asian. Raven-haired though she may be, Jones looks fairly out of place in those high-collared qipao dresses. While not fully subject to the taped-back eyes treatment of Luise Rainer in The Good Earth or Myrna Loy in The Mask of Fu Manchu, Jones's casting is nevertheless a bizarre holdover from those thirties films, betraying Hollywood's entrenched white supremacy despite its social liberalness. If this seems especially odd for a film that turns out to be largely about the damaging pervasiveness of intolerance itself—Han Suyin's adulterous love affair with Holden's American journalist Mark is condemned by acquaintances largely on grounds of miscegenation—let's not forget that only six years earlier, button-cute Caucasian Jeanne Crain was cast as a light-skinned African-American in Elia Kazan's groundbreaking race film Pinky.
Where Many-Splendored Thing works is less in its leading performers (Jones is too mannered, Holden too cocksure) or its tenuous stab at politics (it only deals with the epidemic of Chinese refugees coming to Hong Kong in the person of one adorable tyke) than in the way it employs its CinemaScope frame to create emotional connections between character and environment. This is an excursion movie more than anything, placing its couple on expressively windy hills, and against daunting mountain ranges and expanses of cloudless blue sky. "Like all Chinese I'm spellbound by my own country," Jones says at one point, impressing upon her audience just how captivatingly exotic her surroundings are, just in case all the talk of good-luck butterflies and fortune-telling beetles didn't persuade.

Hollywood's tentative fascination with other cultures largely depends on just how glamorously picturesque it can be made to look. This is why images of poverty and genuine political strife have never really been Hollywood's speed; thus the Middle East is always highly preferable as an American movie subject when presented in whimsical, colorful storybook form. Vincente Minnelli's 1955 film Kismet, taken from the contemporaneous Broadway musical by Robert Wright and George Forrest, doesn't offer anything particularly new in terms of the manner in which it depicts its foreignness—in fact it's among the most representationally retrograde movies of its decade, set on the chintziest MGM set imaginable. Its charms come from its generally superb score, all of it adapted from classical themes by Russian composer Alexander Borodin, and from the expressive capabilities afforded by that anamorphic lens.
The Arabian Nights framework of the Kismet story—a tale about the rise to power of a wily beggar (here played by preeminent Hollywood baritone Howard Keel) and his lovestruck daughter (Ann Blyth) that was already filmed as a straight drama in 1944— allows for the kind of alluring faraway setting that so many musicals of the era would prize (see also South Pacific, Brigadoon, Flower Drum Song). Having disliked the stage version, Minnelli initially declined producer Dore Schary's offer to direct the film, but finally agreed when Schory promised that he could follow it up with passion project Lust for Life, 1956's Vincent Van Gogh biography. His relative indifference is keenly felt throughout the film's mostly half-interested stagings and compositions, in which overdressed actors are shuffled around gaudy backgrounds like puffed-up paper dolls. But the enthusiasm of Keel, Blythe, Dolores Gray as a lusty wazir's wife, and crooner Vic Damone as Blythe's love interest (his acting is ramrod stiff, but his voice is duck-fat smooth), go a long way toward making up for its cardboard cartoonishness and lack of narrative drive. Indeed, Kismet often plays better than it has any right to, as the CinemaScope frame single-handedly makes it something to look at and not just listen to. There are no snakes or funerals, but there are camels and caravans, and Damone's "Night of My Nights" is set to a thrilling wedding procession moving across the frame draped in beautiful evening shades.
If China and the Middle East were still regarded as untouchable others, Japan was becoming increasingly de-exoticized in the years following World War II, especially considering the pervasive American influence bred by our occupation. Nevertheless, representations of Japan in mainstream cinema were still infused with curiosity rather than empathy. With Rashomon, Gate of Hell, and the Samurai Trilogy gaining major art-house audiences in the U.S., interest in Japan was on the rise, but more as it pertained to its differences to American life than its similarities. When Satyajit Ray first visited the United States in 1958, for example (a trip during which he met Stanley Kubrick, George Stevens, and Billy Wilder) he was surprised at the provinciality of Hollywood moviemakers, noting in a letter to a friend what he regarded as "colossal ignorance and only a moderate inquisitiveness" about Indian culture. Ray's astonishment is understandable—after all, just three years earlier, Twentieth Century-Fox cast Richard Burton as a Hindu physician in The Rains of Ranchipur. He went on to write, "The notions about Japan are equally nebulous, and this airing of ideas about kabuki etc., is just sheer pretense. The East is still as far away from the West as it has ever been."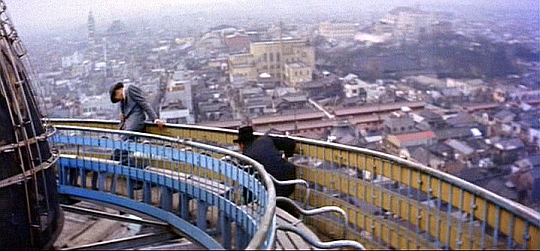 In 1955, Samuel Fuller's House of Bamboo became the first Hollywood film to venture to Japan. This novelty is so crucial to its identity and style that the film actually opens with voice-over explaining to the viewer: "This film was photographed in Tokyo, Yokohama, and the Japanese countryside." From there, we're thrust into one of Fuller's expertly staged skirmishes, here a silent robbery on a stopped locomotive full of guns and ammunitions. An American sergeant is killed in the robbery (his body strikingly shot from below his feet at ground level, snowy Mount Fujiyama taking up most of the frame), instigating an American investigation, which leads the viewer to the twisted dealings of a crime syndicate in Tokyo peopled by dishonorably discharged former American servicemen, led by ever-grizzly Robert Ryan, and the undercover cop, played by Robert Stack, who infiltrates it.
Fuller used the U.S.-set 1948 gangster noir A Street with No Name as his template, at the suggestion of producer Darryl Zanuck, and while House of Bamboo might have been set anywhere, that doesn't mean it's set nowhere. Fuller, whose The Steel Helmet features the boldest depictions of American racism in any film of the fifties, doesn't direct as though he's a curious ethnographer, nor does he ever roll the camera with disengagement. As with any of his films, whether they're set in Arizona, postwar Germany, or small-town suburbia, Fuller dives right in and takes nothing for granted. Though reports remain of negative responses to House of Bamboo from Japanese critics, including an August 1955 article that testifies to it as "a commercial item trying to sell exoticism to an American audience using Japan as a stage," the film doesn't merit condemnation on grounds of insensitivity.
House of Bamboo was originally titled The Tokyo Story—which might have sat oddly next to Ozu's decidedly milder film, made just two years prior, and which also might have led viewers to consider Bamboo as having been conceived as a definitive take on Japan rather than a work of genre escapism. Put aside the meat of this brutish and swift, but compositionally elegant film, and the fact remains that this movie was shot in Japan, not long after the war, and thus exists as Hollywood cinema's only document of the country after the peace treaty and the end of the U.S. occupation. From its shots of the Sumida River to the glowing theater district to the climax set on the Matsuma department store's roof playground, Bamboo is about place. The thriller elements aren't awkwardly grafted on to the setting, they're holistically part of it. And thanks to that riveting CinemaScope frame, the viewer is often placed at an awesome vantage point from which to discern the geometric grace with which Fuller stages suspense in this foreign location. One can assume that Fuller's film would have been as much of a visual revelation even if shot (or "stuck") in a more narrow frame. But the director at least convinces us that the journey to the other side of the world was worth the extra width.
Michael Koresky is the staff writer of the Criterion Collection, as well as the co-founder and editor of Reverse Shot. His writings have appeared in Film Comment, Cinema Scope, indieWIRE, Moving Image Source, Sight & Sound, and The Village Voice.