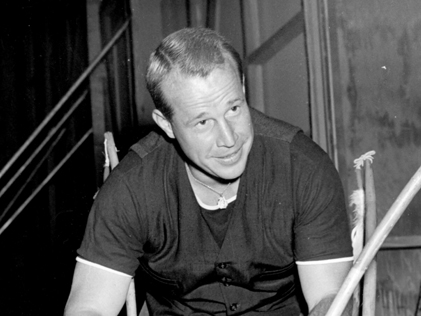 I had intended, before finally the time came to draw on my dove gray, elbow-length writing gloves, to discuss the extraordinary opportunities which greeted fans of the great director Budd Boetticher this week, what with the screening of Boetticher's two films with Robert Ryan as part of Film Forum's ongoing twenty-four film salute to the actor, and the surfacing of Boetticher's The Rise and Fall of Legs Diamond as part of Warners's On-Demand DVD series.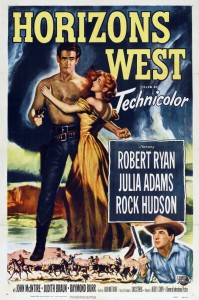 I had every intention, I repeat, to offer detailed exegesis on each of the abovementioned titles. But as the teasingly gorgeous first Technicolor images of Horizon's West blazed onto the Film Forum screen, it was quickly evident that the print had been struck with a muffled, distorted soundtrack which sounded as though it was spackled with hairballs. This caused great consternation among the mummies who populate Film Forum 'pon a Tuesday afternoon, who at once sprang to life expelling a chorus of dusty curses. "Didn't you screen it in advance?" creaked one, who never saw anything like this at the old Loew's Valencia, where you could see two pictures for a dime and a newsreel besides, his voice leading a rising tide of sepulchral moans, clearly unappreciative of the superhuman work involved in corralling together twenty-four archival prints.
This whole debacle having been sufficiently disturbing to dissuade one from staying on for the following Robert Ryan-in-a-diving-suit picture, it now seems more pressing to use this space to discuss my long-standing passion for one of the finest prose stylists presently working around the Seventh Art. I am referring, of course, to that Hazlitt of hype, that Johnson of jargon: Whoever writes "The Buzz" capsules on the Internet Movie Database's Now Playing/ Coming Soon section.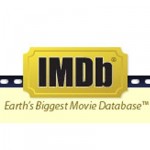 Anyone eager to be hipped, via imdb, to what Tinseltown's wand-wielding dream-masters are currently conjuring up for the public they so respectfully tender to may well have encountered this anonymous scribe. I recall my conversion to full-blown Buzz-head coming a few years back, upon reading a line about some long-since-forgotten movie (I just checked. It's Angels & Demons), in which The Buzz anticipated, "the nice one-two supporting punch of Ewan McGregor and Stellan Skarsgård. We're hoping one of them steps into Ian McKellen's scenery-chewing shoes."
At the very best, The Buzz sounds like the product of a native Varietyspeaker who has never heard conversational English, with a Trivial Pursuit card writer's passion for needlessly queer and backward-running phrases. Sometimes it just resembles the product of a random word generator. For example, describing the upcoming Fright Night: "While kids today do have the patience for vampires, nothing will eclipse the original's noteworthiness (including the career transition made by Stephen Geoffreys). That said, the assembled talent here impresses, those in front of and behind the camera are all likable to lovable, and most everyone is an underdog in a Hollywood movie star way." "So, what did you think of the movie?" "Eh. Didn't quite eclipse the original's noteworthiness. Likable to lovable cinematography, though."
Turning its attention to Dirty Girl, the Buzz reports: "Juno Temple is going to be, like, in every movie that comes out in the next 12 months, but we don't think this is her best indie side." (Stuttering sentences with the faux-casual "like" is a favorite "literary technique" at The Buzz.) Faced with Puss in Boots, The Buzz wonders aloud what the rest of us dare only think: "are spin-offs more cost effective and less fan-provoking than reboots?"
Lest you think this is all mere sho-biz boosterism, note that The Buzz is not afraid to kick it political, regardless of what enemies it may make. Regarding George Clooney's The Ides of March: "A contemporary political drama from the main men behind Good Night, and Good Luck? Yes, please. With extra muckraking on top." As for the hot cast: "Can't you hear Paul Giamatti yelling and Marisa Tomei's eyelids fluttering already?" Ripping from the headlines to describe Margin Call, The Buzz ruffles feathers inside the Beltway: "Our original grade for this film was AAA, but it was downgraded due to fictionalized fiscal crisis burnout. Just kidding."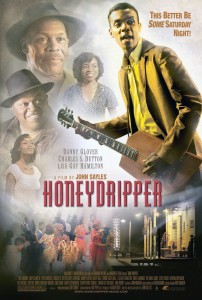 The coverage don't stop at middlebrow, domestic product, neither. Writing up Almodóvar's The Skin I Live In, The Buzz gets sweaty-palmed over "the controversial storyline on the relationship between Banderas's Ledgard and the character who assaults his daughter, that's going in the books as Almodóvar at his most divisive. (Yay! Scandal!)" As for John Sayles's Amigo: "One great thing about a John Sayles film: whether people love or dislike it, they [sic] going into detail as to why it triumphs or fails or bores or disappoints." The "love-dislike" polarity may be half-accurate, actually, as no-one has ever felt strongly enough to "hate" a sententious bore like Honeydripper.
For some reason, though, nothing I have read on The Buzz enchants me quite like this excerpt, from their Warrior writeup: "Look for the Cult of Tom Hardy to grow in members."
Well, Ryan next time, perhaps, and I promise to write something more fan-provoking so that The Classical's cult can grow in members. With extra muckraking on top.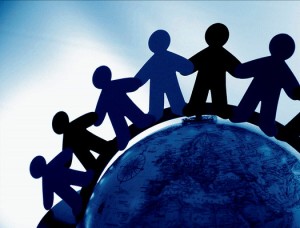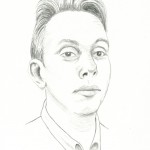 Nick Pinkerton is a regular contributor to The Village Voice film section, Sight & Sound Magazine, and sundry other publictions. He lives in Brooklyn, NY.